One year ago, Jeremy Sochan walked across the stage at Barclays Center and shook Adam Silver's hand after the San Antonio Spurs selected him with the No. 9 pick in the 2022 NBA Draft.
Now, after an terrific season that earned him an All-Rookie Second-Team selection, Sochan is returning to New York and attending the NBA Draft once again — this time as a media correspondent for the NBA's app and social-media accounts.
Sochan will conduct red-carpet interviews with this year's top prospects, including No. 1 pick Victor Wembanyama, who will soon be Sochan's teammate. Wembanyama is the most hyped-up prospect since LeBron James, and all eyes will be on San Antonio next season after adding the potential superstar.
The Spurs will have one of the most promising young cores in the NBA, and the pieces fit together incredibly well. Sochan, Keldon Johnson and Devin Vassell will perfectly complement Wembanyama's skill-set, and all four players are age-23 or younger. It's an exciting time to be a Spurs fan, and it certainly seems that San Antonio has found its next franchise cornerstones.
As a rookie, Sochan turned heads with his dyed hair and one-handed free throws. However, he also proved he belongs in the NBA and flashed glimpses of brilliance throughout the campaign.
The 19-year-old averaged 11.0 points, 5.3 rebounds, 2.5 assists and 1.2 stocks while shooting 45.3% from the field, 24.6% from three and 69.8% from the free-throw line. Over the final month of the season, Sochan was even better, averaging 16.7 points, 7.8 rebounds, 2.2 assists and 1.2 steals, while shooting 48.3% from the field and 76.9% from the charity stripe.
Before Sochan transitions to interviewer mode, he spoke to Basketball News' Alex Kennedy as the interviewee and discussed Wembanyama's game, his advice for the incoming rookies, the Spurs' terrific young core, his interest in broadcasting, his one-handed free throws and more.
After a successful rookie season that culminated in an All-Rookie Second-Team selection, what advice would you give to this incoming class of rookies?
Jeremy Sochan: "Stand your ground, but also listen, be open to [feedback] and be coachable. Just be able to go into an organization and show them that you want to work hard and that you want to be there. Also, listen to your elders – your coaches and your vets – because that's going to help you. The other thing is consistency. They're coming from a season where they've played 30 or 40 games, and now they're going into a season where they're playing 82 games (plus the playoffs, if you make it). Just try to be consistent because it's a lot of games and it wears down on your body, so try to do everything to help that."
Victor Wembanyama is one of the most hyped-up prospects in NBA history. His size and length are obviously crazy, but what aspects of his skill-set impress you and what are some things that should help him in the NBA?
Sochan: "I think it's just the footwork for his size, the mobility for his size and the touch for his size. I think that all adds up into him being an all-around player, and his height just gives him so many advantages, for real. I think [his skill-set] is really exciting and it's going to be really good for him."
I've talked to scouts and executives who believe that you and Victor will complement each other really well. Do you feel that your skill-sets are a good fit? And how can you guys help each other on the court?
Sochan: "Of course, if it happens…"
Oh, right. Assuming he's a Spur, how would you guys help each other on the court?
Sochan: "Yeah, assuming it happens, I think we both have a lot of versatility, especially on the defensive side. He's a rim protector and he's very lengthy, and then I'm very destructive and I can play 1 through 5, so I think there's a lot of potential there. And then offensively, I feel like I'll be able to get him into good spots and be able to play-make for him and make the game easy for him. I think we complement each other's games really well and I think it's really exciting if, potentially, that happens."
Again, assuming Wembanyama is the pick, he'll join this young core in San Antonio that already consists of you, Keldon Johnson, Devin Vassell, Tre Jones, Zach Collins, Malaki Branham, Romeo Langford and Blake Wesley among others. What do you think of all this young talent, and where does this group rank among the best young cores in the NBA?
Sochan: "I think the thing about our young core is that we all want to be around San Antonio, we all want to work together and we all want to be better. I think we're all very motivated to just work. We have [the opportunity] to be around the Spurs and just work, and I think that really helps. Personally, I think we're one of the best young cores in the league. I'm not a guy that likes to rank [teams] and stuff, but I definitely think we're up there."
Gregg Popovich is arguably the best coach in NBA history and the Spurs are known for getting the most out of players. Sometimes, legends like Tim Duncan and Manu Ginobili will stop by to work out with you guys. What can you share about your experience in the Spurs' organization and how they help players realize their full potential?
Sochan: "I think they're just really keen and want to help us with opportunities, and it's all very team-based. They're always communicating with the players and showing us the way. The Spurs have a winning culture; they've won for so long so they know the blueprint. They give us that blueprint and try to find players who actually want to work for that. That's what they're really good at, finding those kinds of players [who will buy in]. They help us a lot."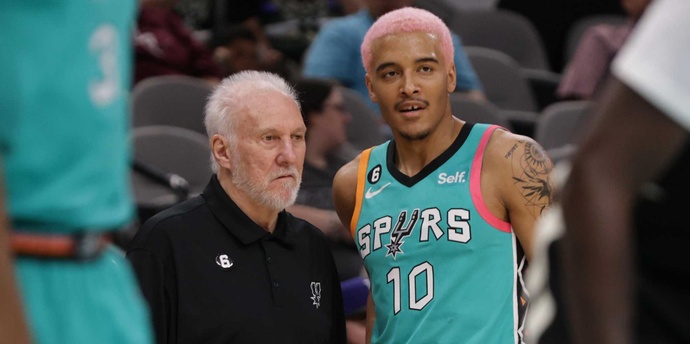 You and Victor played against each other back when you were 15 and he was 14. Your team won, and you joked on Twitter that neither of you were good back then. Do you have a relationship with Victor and when did you realize he could be a special player?
Sochan: "We don't really have a relationship like that, but I've talked to him a couple times. And like you said, we played against each other so there is a relationship in that sense, but it's nothing crazy. But yeah, I played against him back then, and he already had a lot of potential, so it's exciting to see how he grew and how popular he got over the years. I think he's a very exciting prospect and he's going to do a lot of good stuff for himself."
Paolo Banchero, Walker Kessler, Bennedict Mathurin and Jalen Williams served as media correspondents during the NBA Finals, and now you're going to be the league's NBA Draft correspondent tonight. I know you've done some interviews before, like your chat with Tony Parker. Are you hoping to do more broadcasting or media stuff in the future?
Sochan: "Potentially! If I get the opportunity to do it, then why not? I feel like I'm pretty good at it; I'm natural. So yeah, if there's an opportunity, I'll do it."
Did you do any research about the players or prepare any questions? What kind of prep goes into being an NBA Draft media correspondent?
Sochan: "(laughs) Yeah, I've been able to prep a bit and do some research on the players. I've talked to the people around me who know a bit more than I do. And sometimes it's just on the go too and just being able to do it [on the fly]. But yeah, I'm excited to be here for the draft. It's kinda cool to come back here after a year and still remember everything [from my draft night], just all of the emotions and stuff. And [it's fun] just to be here for all of this year's draft prospects too."
You let fans vote on what color you'll dye your hair for tonight's NBA Draft. When did you start dying your hair and using that as a way to express yourself?
Sochan: "I probably started two years ago or two-and-a-bit years ago. It was just something that I always wanted to do, just to be able to showcase [who I am] and be myself. And it shows people that you can do whatever with your body and be proud of it. Just be confident!"
Your one-handed free throws really worked and improved your free-throw percentage over the course of the season. I actually wrote an article about how it could influence other players to make the same change. Would you recommend shooting one-handed to players who want to improve their free-throw percentage?
Sochan: "Yeah, why not? The thing is, if it's working and it helps your shot, why not do it? When I started doing it, I feel like a lot of people were like, 'Why are you doing that? or, 'It looks weird,' or whatever. Or they'd ask like, 'How did you do it mentally?' But I'm going to do anything [to improve] my game and help me. If that helps, I'm going to do it. And who cares if people laugh at you? Who cares if there are critics who talk about it? It is what it is at the end of the day and if it's helping me, I'm going to do it."