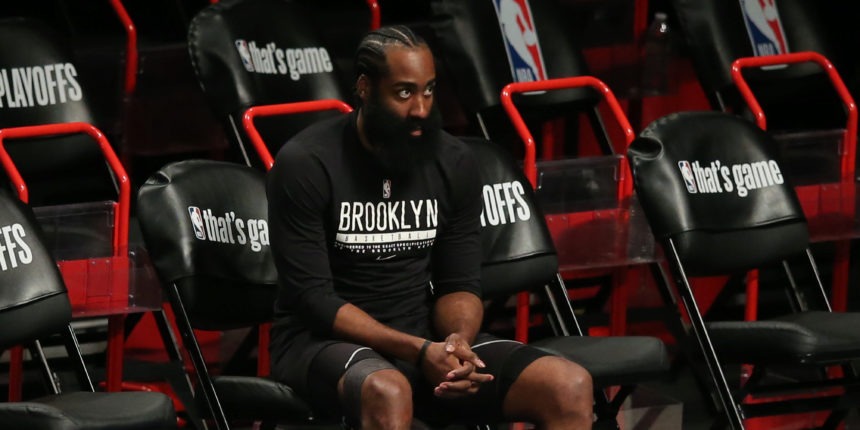 In Brooklyn, the quest for validation still motivates James Harden
It's amazing how one's entire career — one's entire legacy — can often be defined by being on the wrong side of fate.
How differently would we have thought of LeBron James if Ray Allen hadn't made that three-pointer?
Would we have completely overlooked Kobe Bryant's 6-for-24 performance against the Boston Celtics if Metta World Peace didn't make the biggest shot of his life?
What would have become of James Harden's legacy if Kevin Durant's big toe didn't get the last laugh? Would Brooklyn have won the Eastern Conference? Could they have defeated the Phoenix Suns?
It's all moot now, but those thoughts help one realize how razor-thin the line between winning and losing can be.
United in purpose they are, but of Irving, Durant and Harden, it is only the Beard who endeavors to get his name off of the "Charles Barkley" list. From Karl Malone to Allen Iverson and Patrick Ewing to Damian Lillard, it's obvious that more goes into winning a championship than desire and talent.
Harden knows that all too well.
So yes, while they are united in purpose, they are each divided by their motivations to take their talents to Brooklyn in the first place.
For Irving, it was about coming home and finding happiness. For Durant, it was about building an empire to go along with an already-mighty legacy.
For Harden... it's about validation.
September 27, 2021
Since his Oklahoma City Thunder were slapped aside in 2012 by a LeBron possessed by his mission, Harden has been valiantly trying to get back to the NBA Finals. But just like Durant's left foot, Chris Paul's hamstring had other ideas. So did a number of failed partnerships along the way.
A great player in his own right, for the entirety of his basketball career, Harden has been one of the unfortunate few who was just never good enough at the right moment. He's fallen short more times than he'd care to remember and, ultimately, has been squeezed between the margins as a number of his peers came out on the other side.
Between Durant and Irving, the two have three championship rings and more than twice as many Finals appearances. Best believe — that realization keeps Harden up at night.
"It's very important," Harden responded, matter-of-factly when asked about his desire to win a championship in Brooklyn.
"As a competitor — I feel like as one of the best players in the league — that's what you train in the summer for. That's what you go through the tough times and grinds for, the difficult days for."
And, alas, he vowed to keep fighting.
"I fell short a few times, but that doesn't stop me and it won't stop me," Harden said.
"I train every single day with that mindset to be able to compete at the highest level and to be the last team standing... For me, I just want to go out there and make my teammates better [and] try to be the best player on the floor every single night..."
While he has mostly succeeded in that quest, Harden, unfortunately, has been the best player on the floor most nights — just not those in April and May.
An ugly divorce with the Houston Rockets saw him eventually land in Brooklyn in January, but he would only play eight games with Irving and Durant before the playoffs began. And once they did, he and Irving couldn't stay on the floor.
Harden valiantly played his way back into game shape and was remarkably effective for a player dealing with his ailment. Maybe, just maybe, if Durant's foot found its way behind the line, Harden could've found his stride in the conference finals against the Atlanta Hawks.
It turns out, that inch made all the difference.
About three months later, feeling like it was the first day of school, Harden was confident and upbeat, yet satisfyingly realistic about where the Nets find themselves as they prepare for the challenges that await.
"I think my job is to make sure that throughout the course of the year, we're all on the same page — obviously there's gonna be some ups and some downs and some tough times or whatever the case — but as long as we all have the same goal and that same sacrifice, it starts [Tuesday] in training camp... kinda instill that in the guys' minds that we're doing this together, and to the end."
And together, they'll hope that the end is further than where it ended up being last season.
There's no question that the Nets will enter the season as the most-talked about team in the East, just like they were last year. But what Brooklyn discovered — and what Harden has long known — is that it doesn't guarantee you'll be the last team standing when it's all said and done.
Back in 2014, the San Antonio Spurs made good on their revenge tour. The year prior, a couple of missed free throws from Manu Ginobili and Kawhi Leonard left the door open for Chris Bosh to snag one of the biggest offensive rebounds in NBA history. When the Spurs began the 2013-14 season with hopes of exorcising those demons, Danny Green admitted to having nightmares about the one that got away.
They made good. Now, it's Brooklyn's turn to attempt to do the same.
Patty Mills, one of the newest Nets, happened to be on the Spurs for that two-year stretch. Although he can't share in the pain that the club has felt since falling short against Milwaukee, he can certainly advise as to how to channel it.
Part of the reason the offseason is so long for the NBA's players is because there's no game tomorrow. It's the beauty of the chase for the ring. No matter what happens on Monday or Tuesday, there's always a game on Wednesday. There's always an opponent to scout, film to dissect or a game plan to discuss. When one game ends, emotionally, players have been trained to move on immediately, because a new challenge is on the horizon.
But those months between one's season ending and training camp convening?
Those days are long and dark.
On Media Day, as Harden reflected on the previous chapter in Brooklyn, he looked ahead with renewed energy and cautious optimism.
Squeezed between the margins for far too long, his personal quest for basketball immorality begins anew.
This time, he hopes, he can crawl toward the light — and better, wiser and more humble, that he can help his team come out on the other side.