In perhaps one of my favorite matchups of this basketball season and scouting cycle, Duke ousted Texas Tech 78-73 in the Sweet 16. It was quite literally a "tale of two halves" as Tech and Duke exchanged jabs and pot shots for the opening 20, with the Blue Devils struggling to consistently find a weak spot in Tech's no-middle leviathan.
According to KenPom, Texas Tech's first-ranked defense, allowing just 85 points/100 (adjusted for schedule), was the best defense in DI basketball since… Tech in 2018-19 (84.1 pts/100), Virginia in 2017-18 (85.6 pts/100, 31-3 record) and Kentucky in 2014-15 (84.4 pts/100, 38-1 record).
In the second half, Duke scored 49 points. That's the most Tech allowed in a half this season — in fact, Tech held its opponent below 49 points in the entirety of a game multiple times this season. They allowed 45 in a half to Oklahoma earlier this season, and held them to 42 points the next game. Duke's 78 final points was the second-most allowed by the Red Raiders all year, and most in regulation.
This Texas Tech defense was a juggernaut all season, which puts into context the performance Paolo Banchero put together in the second half.
The first time you watch a no-middle defense (what Tech thrives upon), it's vexing. It's odd to watch a team welcome baseline drives, but it makes sense when an unsuspecting guard takes the open lane and runs into well-timed help and back-line rotations in the paint. The communication required to fully execute a scheme so reliant on switching, timeliness and aggression cannot be undersold.
Just watch this possession.
Duke opts into a high-aligned horns set to draw out the defense. Look at how much space is presented along the baseline.
Now, watch how Tech slowly shows you that the space just doesn't actually exist!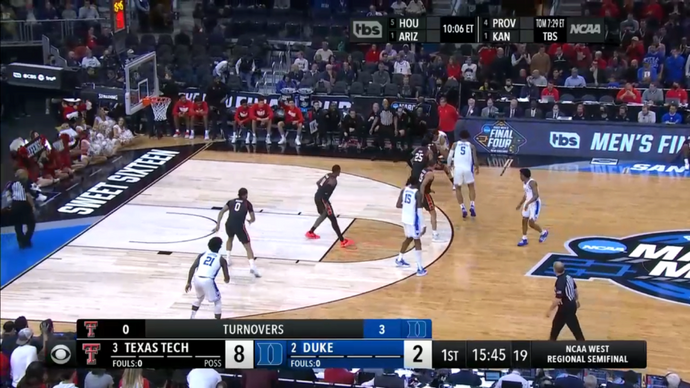 Terence Shannon Jr. shades Wendell Moore, presenting the baseline drive, denying the potential of a middle pick-and-roll with Paolo Banchero.
Bryson Williams helps down off of Mark Williams, preparing to time his slide with a Roach drive.
Kevin Obanor pre-rotates off of AJ Griffin to help at the rim.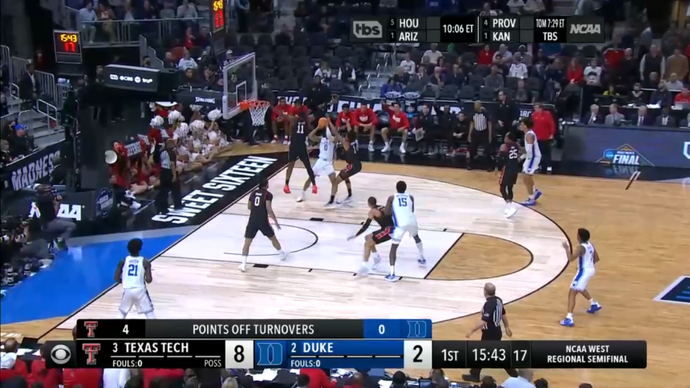 Williams rotates and the ball is stopped.
Kevin McCullar fronts Mark Williams, preventing any quick lobs or interior passes opened up by Bryson helping off his man.
Adonis Arms (great name) is glued to Banchero to take away any immediate outlet.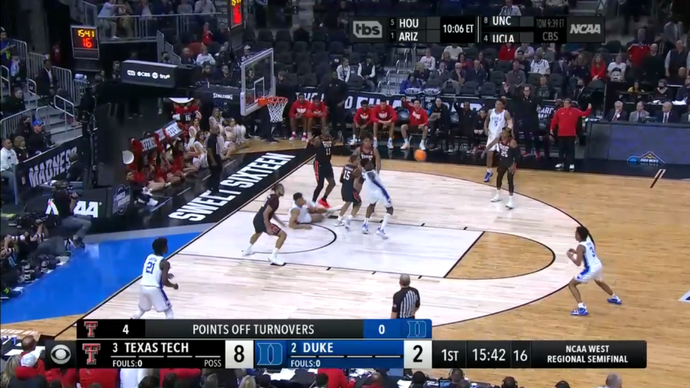 Moore tries to split the double and passes out to Roach in the slot as he stumbles.
Obanor closes hard and forces the pass to Griffin who takes an initially open, but at least late-contested shot from deep, as Williams screams to the corner.
This possession wasn't even a perfect showcase of the difficulty of trying to break down a defense this in-sync — with length, court awareness and athleticism throughout the 5-man unit.
Throughout the first half, Duke attempted to get Paolo open in different ways, but Tech made it near-impossible to get him downhill. If a dribble hand-off was called, Tech switched, but the defender who just switched off would keep a hand on Paolo, sticking to him as the next defender took him on, giving a more open look from deep — but also not affording Paolo a slip or quick post mismatch. Also, it should be said that there just isn't really anyone you can post-up against and take advantage of on the Tech team. If he did catch the ball outside the arc, the Red Raiders would soft-close, refusing to give him a lane to the rim and forcing him to either drive and post into help on his pivot, or take a pull-up two.
These are the three baskets Paolo made in the first half:
And-one layup on the break
Catch-and-shoot three in early offense
Wide-open two-handed slam on blown switch with 15 seconds before the half
Tech's defense clung to Paolo like an overblown life jacket. Duke started to use him as a screener for pin-downs from the low/mid-post to try and get him more to the middle of the floor away from action, and able to attack off the catch — attempting to get his vision in the heart of the defense (precisely where Tech did not want him).
That last basket in the first from Paolo felt like a bit of a parting of the Red Sea, the "we-need-this-more" moment for Duke.
Griffin is by and large one of the best shooters in college basketball this season, so Tech sells hard on his cut to the arc off an elevator screen. However, the quick dive from Mark Williams frees up Paolo due to Tech's overplay and miscommunication on the switch. To be fair, that is a hard play to cover when factoring in the gravity in-play. You have one of the best shooters (Griffin), a great roll-man and lob threat (Williams) and then maybe the most dynamic scorer in Division I (Banchero).
It's sort of like guarding a Spain pick-and-roll without the actual pick-and-roll.
While this isn't an action you can just spam over and over against a great defense, it showed the key for Duke — the team needed to set up more interior screening actions to force the defense to think more and get them into more precarious situations.
To open the second, they started to look for high-lows to find Williams off dummy actions. After Duke caught Tech the first time, they started selling out harder to front. Duke also slipped in more off-ball lifting from the corners to make it harder on the taggers.
Even then, Tech's defense was so stout, and was able to flounder most of those actions. However, it freed up Paolo Banchero to find cracks in the defense. The man who was glued to him at all times earlier... well, the early actions and off-ball movement were enough of a solvent to pry him loose.
Shannon is ball-watching a bit and prepared to help on Williams, but Moore lifts, gets the kick, is stifled himself, and then... Paolo.
The ability to jut into space, and tight space at that, shimmy through unbothered, and then place a perfectly timed lob... that's special. It seems basic watching, but make no mistake, this sort of play is backbreaking.
Then, a few minutes later, a play breaks down. Duke starts swinging and trying to find an answer, and the ball reaches Paolo's hands with 10 seconds on the shot clock.
He looks to Theo John, fakes a chest pass to Trevor Keels, then jabs and rips left as soon as Kevin Obanor plants his foot, but then spins back on the pivot.
This is really solid defense from Obanor, but the body control and composure from Paolo beats solid defense.
Paolo's drive commands Shannon's attention, but so does Griffin lifting to the slot. Paolo keeps his eyes on the rim as he jumps for a fleeting moment, keeping Shannon's eyes on him in the process, adding a sliver of time and space for Griffin to plant and fire.
This possession and this pass are far from perfect, but in a game like this against this level of opposition, the ability to make imperfect plays work in your favor is part of what sets apart good and great players.
Remember that elevator play from earlier? Well, it's back!
Tech remembers what happened last time that play went down, switching everything, keeping the screeners from getting open, but now with the Arms rotation, Keels is wide open in the weak corner. The shot doesn't fall, but attacking the middle is opening up plays on the perimeter.
Here comes another variation.
What else is Texas Tech supposed to do? The action from Paolo is too quick to front, you can't really just give him a baseline shade when you're that close to the rim. Williams honestly helps about as well as he can given positioning and how the play develops. Paolo just hits a ridiculous baseline floater/push shot that's been setup by his utilization as the game's gone on.
Again, the offense looks late to Paolo off-ball as the clock winds down off multiple stuffed actions.
Williams can't finish inside, but again, they get a great look. Paolo catches, dips left, and rips to his right — drawing two while also freezing Arms in the middle of the floor, opening Williams for the lightning quick pass to the dunker spot (listen and subscribe!).
Getting to the middle of a no-middle defense is, as the name implies, the way to best defeat it.
Next play down, Roach kicks the ball to Banchero early in the clock and he attacks immediately, driving baseline.
Here's the fun wrinkle. He spins as soon as help comes, essentially rendering it useless as he fires the ball out to the top of the key. He draws two to where the ball no longer is!
Griffin attacks the paint and kicks to the corner as Paolo relocates and gets the wide-open three, because of the attack he set in motion seconds earlier.
Again, Paolo stirs the drink later down the floor, attacking off the close, getting deep in the paint and forcing rotations and a wild close-out as Moore attacks off his pass for the bucket at the rim.
Duke has the pace pushing now.
Tech's on their heels and it's palpable through pixels.
It's hard to find players who can spin with regularity, but also with control.
Paolo's drive game has entered 'the deal zone' and there's not an offer that Tech can put forth to stop it. Sell out for the drive, and a dump-off or lob is headed to the dunker.
Mark Williams throws down an emphatic exclamation point on a dominant offensive half from Duke.
I could go on and on about their play as the minutes wound down — a methodic and metronomic bucket precipitated by an attack on the middle of the floor. Paolo Banchero wasn't the primary ball-handler for the Blue Devils, but he was certainly the primary difference maker.
Credit to Duke's coaching staff for putting their players in the right positions to succeed, but Banchero's decisiveness, awareness and gravity put Duke over the top and into the Elite Eight. Just an absolutely electric offensive showing and one of the best games I've seen from a collegiate player this year. Remember this game, as it highlights a great deal of what makes him so intriguing at the next level.