Unless they've played in the NBA, there aren't too many people on this planet who can say they've had the opportunity to competitively share the floor with the one and only LeBron James in the prime of his career. Overseas professional Quincy Diggs is one of the few who has.
Made him travel that's how good the defense was pic.twitter.com/BI5cM24vFY

— Qdiggs (@Qdiggs13) August 27, 2015
"That shot he made on me was a travel. I'mma live with that until I'm dead," Diggs told Basketball News over the phone of his pinned Twitter post. "That was a travel. I played great defense. I played great defense on the GOAT. I'll never forget that video."
Diggs remembers how this moment came about. Going into his second season at the University of Akron in 2011, then-head coach Keith Dambrot invited his former Saint Vincent-Saint Mary star to practice with the team and stay conditioned, as the NBA was trying to come up with a solution with the NBPA to end the league's lockout. LeBron practiced with the Zips for two weeks that summer, and on that particular day, bought Subway for the whole squad and hung out with the guys on campus.
"That was a pretty dope experience. We got to see how he'd take care of his body — and to me, it makes sense why he's still playing these days because we've seen how he takes care of his body; after he practices, he's in the ice baths and then he stretches for an hour, so it definitely makes sense for me why he's still playing," Diggs said of LeBron, who is in his 20th NBA season and recently passed Kareem Abdul-Jabbar as the all-time leading scorer in NBA history.
"For him to be giving it back to us as well, teaching us the game and giving his little tips and pointers on how to stay aggressive, read the offense and take your time, that was really a truly amazing experience."
Twelve years later, living in Austria, Diggs proudly represents the United States as FIBA's top American men's 3x3 player on Team Vienna, the runner-up of the 2022 World Tour Finals. Impressively enough, it was his first season playing in this format professionally, and it all came about randomly. What started as a way to stay in shape over the summer worked out more positively in his favor than he could've imagined.
"I didn't know anything about it, 3x3. I was new to it. I said, 'Might as well try it out,' because I couldn't get a job at the time. A friend (Nico Kaltenbrunner) invited me, I tried it out and then, that led to becoming into a season. I didn't know 3x3 has a season. So I did good in the (Eubone Challenger) tournament. I ended up going to Paris. And then, the team actually wanted me to stay on their team permanently. So I said, 'I got nothing else to do, I'm down to play,'" Diggs said.
"And so, we started racking in tournaments from all across the world. We started getting points 'cause we were winning and sometimes coming in second. Eventually, I didn't know anything about points being ranked, and then, I got a message randomly from a guy. It said, 'Hey man, you're the No. 1 player in the USA.' And there's a lot of people that play from the USA in these tournaments. Because we were winning and placing so high in tournaments, I racked up so many points so quickly that I became the No. 1. So that was pretty cool to see and notice. I didn't know anything about it, so it's pretty dope to be No. 1 in the United States (laughs)."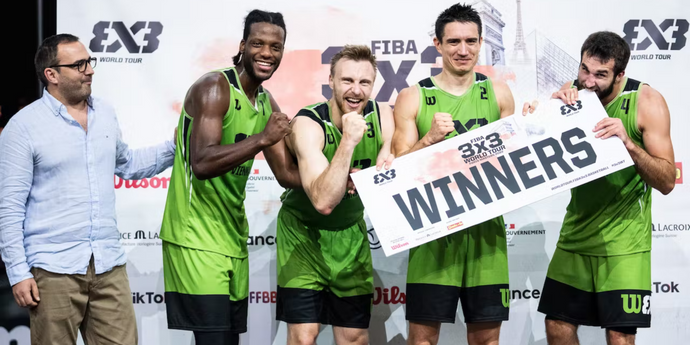 According to FIBA's website, Diggs registered 539,036 ranking points in 41 games played and is the 23rd-best player in the world overall. On the World Tour, he led Team Vienna with 61 defensive rebounds and shot 67% on one-pointers.
None of this would've happened if it weren't for Kaltenbrunner's offer, and now, he's reunited with former foes from his days playing in Oberwart with the Redwell Gunners in his first professional season — Filip Kramer, Matthias Lenortner and Martin "Marmak" Trmal. Former No. 1 player in the 3x3 world Stefan Stojacic, known as "Mr. Robot," came back from a serious knee injury and was in peak condition as well. Altogether, the five made up a well-oiled machine.
With his guys flanking him, Diggs was able to pick up a half-court, three-on-three environment. However, it didn't happen overnight.
"The 3-v-3 is far different from 5-v-5. The first thing I learned is you've gotta be in great shape because the ball is nonstop. You're nonstop defense. You're nonstop offense. The only time you get a break is when somebody calls a timeout," Diggs said. "Me being a 5-v-5 player... You definitely get your rest basically, but it's nonstop. [With] 5-v-5, I'm more of a transition player. I love to get out and run. So it was hard for me to adjust at first, but then I started to get the hang of it.
"My teammates were helping me out — knowing the tricks, the stuff to do. Communication's important. It's three guys out there trying to compete and you've gotta have a lot of communication out there. So it's definitely an adjustment."