Throughout NBA history, there have been plenty of supremely talented teams. However, only a select few managed to string together multiple championships, revolutionize how the game is played and dominate to the point that they defined their era.
It's extremely difficult to create a dynasty, but these six teams earned that distinction.
Boston Celtics (1957-1969)
While it's difficult for today's NBA fans to fathom, the Boston Celtics managed to win 11 championships in just 13 seasons. Celtics head coach and general manager Red Auerbach pulled off a draft-day trade in 1956 that changed the franchise forever, with Boston acquiring No. 2 overall pick Bill Russell in exchange for Cliff Hagan and Ed Macauley. Russell would become one of the most dominant defenders and rebounders of all-time, and when paired with Bob Cousy, John Havlicek and Sam Jones among others, the Celtics became an unstoppable force.
Today, winning three-straight championships is considered an astonishing feat, yet these Celtics managed to win eight consecutive titles from 1959 to 1966 – a record that is virtually impossible to break. While it was certainly a very different era of basketball, Boston deserves a ton of credit for revolutionizing the game and sustaining that level of dominance for more than a decade.
Los Angeles Lakers (1980s)
The 1980s belonged to the "Showtime" Lakers, a dynamic and star-studded team led by Magic Johnson and Kareem Abdul-Jabbar. Under head coach Pat Riley's leadership, the Lakers thrilled fans with their fast-paced style of play. From 1980 through 1991, the Lakers won five championships and made nine NBA Finals appearances.
Magic's unparalleled playmaking abilities and Kareem's automatic skyhook made these Lakers nearly unstoppable on the court. The Lakers' rivalry with the Celtics (and Magic Johnson's personal rivalry with Larry Bird) added another layer of excitement to the NBA, culminating in memorable NBA Finals matchups and moving NBA playoff games to live broadcasts rather than being on tape delay. HBO's show "Winning Time: The Rise of the Lakers Dynasty" has introduced the Showtime era to a new generation of fans.
Chicago Bulls (1991-1998)
On June 19, 1984, the Chicago Bulls selected Michael Jordan with the No. 3 overall pick in the 1984 NBA Draft. It didn't take long for Jordan to make his mark on the league, as he won Rookie of the Year and became a household name. Jordan was the lynchpin of the Bulls' dynasty and became the biggest sports star that the world had ever seen. Coached by Phil Jackson, MJ and Scottie Pippen led the Bulls to six championships in eight years, thanks to two different three-peats. In the 1995-1996 season, the Bulls amassed a record-setting 72 wins, solidifying their status as one of the greatest teams in NBA history (although the record would later be broken by another team featured on this list).
These Bulls teams captured the imagination of fans worldwide. The Bulls' dynasty and Team USA's "Dream Team" (which featured Jordan and Pippen alongside other NBA superstars like Magic Johnson, Larry Bird, David Robinson, Patrick Ewing, Karl Malone and Charles Barkley) deserve a lot of credit for making basketball popular across the globe. Just as "Winning Time" is bringing the Showtime Lakers back into the spotlight, ESPN's docuseries "The Last Dance" became a huge hit and showcased Jordan's dominance and popularity to younger fans who never got a chance to watch him play live.
San Antonio Spurs (1999-2014)
The San Antonio Spurs, guided by the steady hand of coach Gregg Popovich, enjoyed an extended period of excellence. By now, you're probably realizing that dynasties tend to start when a team drafts a special player. For the Spurs, that player was Tim Duncan, who is often regarded as the greatest power forward in NBA history. While Duncan wasn't a flashy player, he was incredibly consistent and capable of taking over games offensively and defensively.
Duncan and Popovich captured five NBA championships between 1999 and 2014. They managed to win across different eras, first with David Robinson, Avery Johnson and Sean Elliot, then with Tony Parker, Manu Ginobili and Bruce Bowen, and later with Kawhi Leonard, Parker and Ginobili among others. The Spurs' success was built on fundamentals, exceptional team chemistry and a selfless approach to the game. Their sustained success over more than a decade solidified them as a modern NBA dynasty.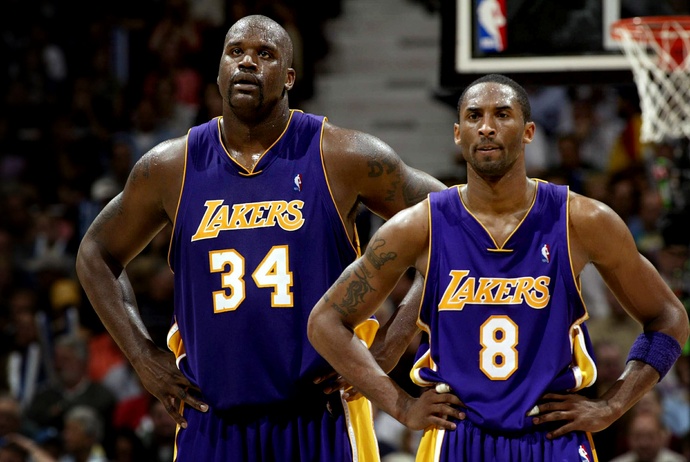 Los Angeles Lakers (2000-2002)
The Lakers of the early 2000s were an unstoppable force, combining the dominant inside presence of Shaquille O'Neal and the scoring prowess of Kobe Bryant. Coached by the legendary Phil Jackson, this superstar tandem led Los Angeles to three consecutive NBA championships in 2000, 2001 and 2002.
Teams had to pick their poison against these Lakers, as Shaq and Kobe were nearly impossible to defend one-on-one. Shaq dominated with his imposing size and physicality in the paint, while Kobe made teams pay with his unmatched scoring ability and constantly evolving skill-set. Together, they formed one of the most formidable duos in NBA history, complementing each other's strengths on the court (while often butting heads off the court). Who knows how many more championships the Lakers would have won if Shaq and Kobe managed to get along and make things work in L.A.
Golden State Warriors (2014-2022)
The Golden State Warriors' dynasty has been a breathtaking display of offensive brilliance and finesse. Led by Stephen Curry, Klay Thompson and Draymond Green, the Warriors revolutionized the game with their three-point shooting, fast-paced style of play and small-ball lineups. Head coach Steve Kerr, who won five championships as a player with the Chicago Bulls and San Antonio Spurs dynasties, helped the Warriors capture four NBA championships in eight years (2015, 2017, 2018 and 2022).
The Warriors won 73 games in 2016, breaking the previous record set by the Bulls. And as if this team wasn't already scary enough, Golden State signed Kevin Durant and became even more unstoppable. Even after Durant left in 2019, the Warriors managed to win another championship, beating the Boston Celtics in the NBA Finals last year. The Warriors revolutionized the modern NBA, and their dynastic run may not even be over. After all, Curry, Thompson, Green and Kerr are still around and the team recently added veterans Chris Paul, Cory Joseph and Dario Saric in hopes of chasing a fifth ring.