Isaiah Thomas is back.
Well, not back — this isn't the 2016-17 campaign in which Thomas carried a Boston Celtics offense to the tune of 28.9 points (on 62.5% True Shooting) and 5.9 assists per game. But Thomas has found a home for the rest of the season, providing the currently-streaking Charlotte Hornets with a nice boost of offense.
Since joining the team three weeks ago, Thomas is averaging a shade under 10 points while draining 48.0% of his threes (3.6 attempts). During the Hornets' five-game winning streak, Thomas is averaging 10.8 points in 14 minutes per contest thanks to some insane shooting from deep (58.8% on 3.4 attempts).
Much like his peak days, Thomas is getting busy in the pick-and-roll.
He remains a pull-up threat, making any sort of "under" coverage nearly untenable. While not as bursty as he used to be, he's able to attack gaps and flow into floaters and push shots. His shot diet has altered since his last full-ish season with the Washington Wizards in 2019-20, with more of his shots coming at the rim or floater range (43% vs 34%) per Cleaning The Glass.
The Hornets have scored 1.16 points per possession (PPP) on trips featuring a Thomas-led pick-and-roll, per Second Spectrum. That number rises to 1.3 on trips where Thomas and Montrezl Harrell — a violent rim-runner with an intermediate touch he can use when the rim is cut off — team up.
That two-man game is the bedrock of Charlotte's second unit, with built-in secondary options if an advantage isn't created.
A favorite as of late: a high ball-screen with Thomas and Harrell that flows into an empty corner handoff.
Think about the options here. A switch would have Willy Hernangomez on an island against Thomas, and Jose Alvarado (fiesty!) on Harrell. Neither would be great options. Playing drop coverage would likely give Thomas a gap to pull-up into, though Alvarado is a stout on-ball defender that could make Thomas uncomfortable.
They instead opt to blitz, taking the ball out of Thomas' hands. But taking the ball out of his hands simply means putting it into the hands of LaMelo Ball, the Hornets' best player.
Giving LaMelo a roller like Harrell is a tough proposition; doing so with an empty side puts the defense in a bind like this: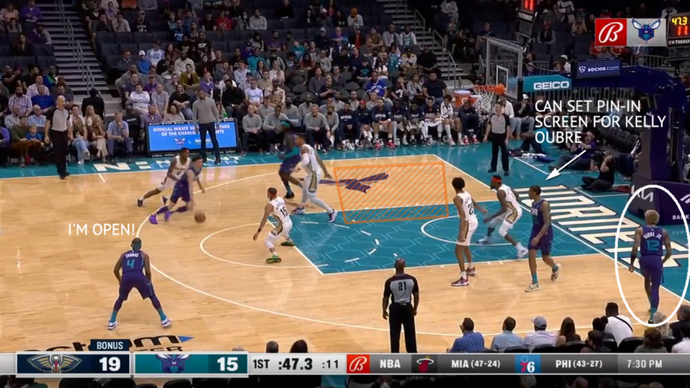 Alvarado peels over to the nail to cut off Ball's drive, but that leaves Thomas open for a catch-and-shoot opportunity. Harrell, of course, is rolling into the empty side with no help present. On the weak side, PJ Washington is in prime position to screen off his man (Naji Marshall, No. 8) or Kelly Oubre's man (Trey Murphy III, No. 25) to create a shot.
The Hornets don't just flow into handoffs after Thomas-led ball-screens; they can pivot to off-ball screens for shooters as well.
This is nice movement set to get Terry Rozier a look. Jalen Brunson does a great job of staying attached, so it simply flows into a downhill attack with Mason Plumlee filling the lane.
Dwight Powell dropped back pretty far on the initial ball-screen, which ends up giving Rozier a runway to drive into. With Miles Bridges chilling in the left corner, Maxi Kleber is stuck between tagging Plumlee on the roll, or staying home on the shooter.
Having a threat like Thomas is incredibly annoying for defenses.
It's especially annoying when he's the first layer of a multi-pronged attack.