The Kevin Love addition has mostly been fine for the Heat.
Love has been a complement to the starting group. He's kicking off transition possessions with UCLA-esque outlet passes, prying guys open on and off the ball with screens, and helping on the offensive glass -- the Heat's offensive rebound rate has increased by 6.9% with Love on the floor, per Cleaning The Glass.
The shot hasn't fallen — Love is now 6-of-24 (25%) from three — which is a big part of why he fell out of favor in Cleveland to begin with. If it's unrealistic to expect a bounceback to the 39.2% three-point shooter he was a year ago, or the 41.5% shooter he was during his last All-Star year in 2017-18, the Heat would surely take him knocking down 35% of his looks like he was during his Cleveland stint this year.
Quietly, there may be room for slight optimism. Love's converting 35.3% of his catch-and-shoot 3s, still below the level we're accustomed to, but slightly higher than his Cleveland stint (34.6%) this year. Frankly, Love hasn't found the rhythm on his pump fake-dribble-fire sequences. He's yet to make any of his six attempts after taking one dribble for the Heat, after converting those shots at a 37.2% clip during his Cleveland career, per Second Spectrum.
Like, this ain't Love.
The defense has been more interesting to track with Love. While the Heat have been among the switchiest teams in the league since Bam Adebayo took over as full-time starter, they've employed a more aggressive coverage for Love. Instead of switching with him or having him in a drop, they've asked him to hedge and recover against ball screens.
When executed well, Love's size presents a wall for ball-handlers to navigate. At best, the opposing offense is forced to burn more time within their possession, making it more likely that the shot they eventually get will be contested.
At worst, the two-on-the-ball nature on the coverage will lend itself to forced reads; with Jimmy Butler and Bam Adebayo on the back end, that often means forcing turnovers — something the Heat have excelled at this season.
The Heat had fared well with Love in that coverage. Heading into Friday's matchup with the New York Knicks, Love had defended 38 ball screens with aggression (hedging, blitzing), with the Heat allowing 0.63 points per possession (PPP) — a better-than-elite number, per Second Spectrum.
The Bucks (12 picks) and Hornets (12) went after Love often without much success. He defended 14 across both of the Philly matchups.
Enter the Knicks on Friday, who tested Love more than he had ever been.
On 15 different occasions, Love was called into the action. The Knicks generated an eye-popping 1.73 PPP on those trips — a number you'd have difficulty achieving if you were shooting alone in your backyard.
The Knicks oscillated between showing patience — simply waiting out the hedge from Love before getting into what they were planning to — and using that early aggression against him. To further complicate matters for Love and the Heat, they were intentional about emptying the corner before flowing into their ball screens.
Of those 15 screens Love defended, 10 of them came with an empty corner. It was the highest number of empty corner ball screens Love had faced since ... an early December matchup between Love's Cavaliers and the New York Knicks.
Surely that's just a coincidence.
I'd point to this first quarter possession to highlight the small margin for error within this Love-specific coverage.
With Love playing that high against ball screens, it requires the Heat's help to be locked in.
More specifically, the weakside corner defender— Max Strus in this case, though the early guard screen from Quentin Grimes complicates things — is tasked with peeling over early to account for the screener's roll to the paint. From there, the defender on the wing (Victor Oladipo) is tasked with "splitting the difference" — zoning up between two players (Grimes and Josh Hart) — to take away a potential skip pass.
Brunson, as he did for most of the night, did a great job of diagnosing and handling the pressure from Love. As Love retreats, he attacks to his right. Hart earns a gold star by setting a pin-in screen on Oladipo, freeing Grimes for a triple.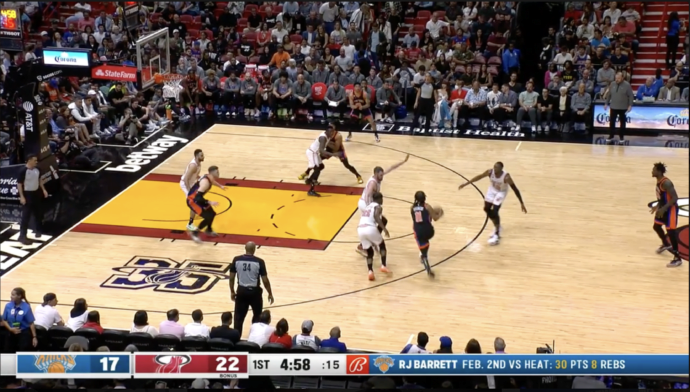 Because Strus is in the paint accounting for Isaiah Hartenstein, he can't provide relief. And because Adebayo is accounting for Julius Randle, he can't (nor should he be expected to) sprint out to Grimes for any sort of relief. With Love and Butler on Brunson, the Knicks simply won the numbers game.
It was a simple, yet effective counter from the Knicks to take advantage of how Love was defending ball screens.