Early in the third quarter, Jimmy Butler casually trots down the right side of the floor.
He pitches the ball to Bam Adebayo above the break, then jogs to the right corner. It looks like Butler is setting up a pindown for Max Strus, which would likely flow into a handoff with Adebayo. Instead, Strus cuts through to the left side of the court, clearing the right side for Butler and Adebayo to go to work.
Adebayo passes the ball to Butler, then sets a screen for him. Tobias Harris gets cleared out by Adebayo's screen. Butler takes a couple of dribbles to his left, while DeAndre Jordan (Adebayo's defender) retreats as part of his drop-coverage duties. With Harris tangled up with Adebayo and Jordan dropping back, Butler is able to rise into an uncontested elbow jumper.
It is hard to overstate how easy this is. Butler doesn't move out of first gear for this entire possession. Harris has no path to getting back in the play after the screen, and Jordan doesn't affect anything.
If that possession looks familiar, it's because it's a near carbon copy of this first-quarter stretch.
The Butler-Adebayo pairing shook loose all night. Per Second Spectrum, a Miami Heat trip featuring a pick-and-roll with Miami's stars generated 1.73 points per possession (PPP) — nearly a guaranteed bucket. It's a far cry from their regular-season mark against the Sixers (0.43 PPP).
We can point out the obvious, that the Philadelphia 76ers desperately miss Joel Embiid.
His ability to play the gap — walking the tightrope between taking away easy shots for the ball-handler and not letting the roll man get behind him — is incredibly valuable. There's a level of space restriction with Embiid that can't be replicated anywhere else on the roster; heck, only a handful of bigs come close to replicating it in the NBA.
The Heat knew that, which led to them upping the ante in Game 2. They ran six more picks (77) than they did in Game 1 (71). More interesting to me was their setup; much like the clips above, the Heat emptied the strong-side corner more than they did in Game 1.
Emptying a corner (or a whole side, again, like the clip above) is designed to put extra stress on everyone, with more emphasis on the screen navigation — because falling behind the play means your big has to account for two players.
More emphasis on the help one pass away. If the big can't get a tag, you at least have to bother the ball-handler. What kind of nail help is this?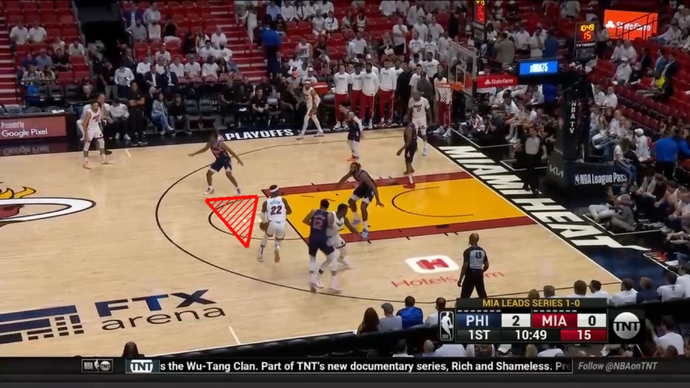 Or this?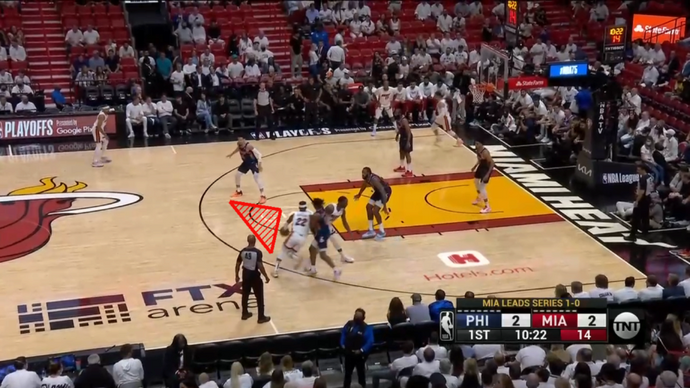 Orrrr this?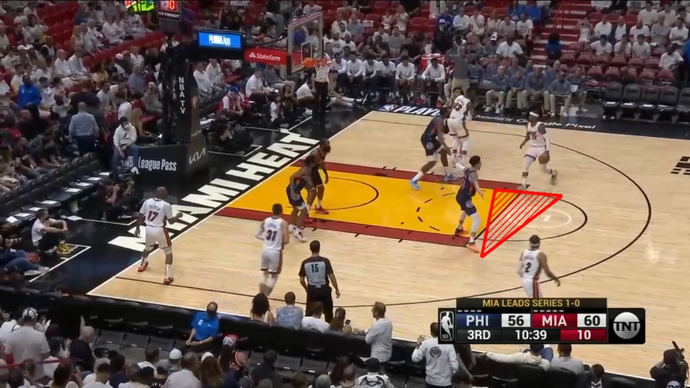 After setting 21 picks with an empty corner in Game 1, that number went up to 29 in Game 2. Not only did the volume increase, the efficiency did as well. Trips featuring an empty corner ball-screen produced well over 1.4 PPP.
The Sixers were already dealing with a personnel deficit with no Embiid. Their drop coverage was never going to hit the same with Jordan or Paul Reed (whew, boy, was he bad) anchoring things. It was awful when Miami emptied the corner against it in Game 2: seven possessions, seven shot attempts, six made shots, 14 points.
That's right — they quite literally averaged a bucket (2.00 PPP) when they saw drop coverage against an empty corner. This was the lone miss:
Yes, that is James Harden playing drop coverage. No, I will not be taking anymore questions.
In light of their struggles against drop, I am utterly confused by them compounding those issues by rarely attempting to keep things on the sideline.
Of the 29 picks they faced with an empty corner, they only went to ICE coverage on four of them. Four! The purpose of ICE coverage is to force the ball-handler down the side, using that boundary as an extra defender.
This is a much better process from Philadelphia. Harris attempts to force Butler down the right sideline. Adebayo does yeoman's work by flipping his angle — the natural counter to ICE coverage — but that simply turns into a late switch by Reed. The play ends with Victor Oladipo committing an unforced error, but that doesn't happen if the Sixers don't take away the easy gap at the beginning of the possession.
The Sixers switched more often than not when faced with these empty-corner actions. This may shock you, but all of their switches took place with Reed or someone smaller at the 5. The Heat scored efficiently (1.3 PPP on direct plays), but look at how hard the Heat had to work for these makes. From a process standpoint, switching is their best way to bring things into the mud.
The simple (and hopeful) solution for the Sixers is to get Embiid back. Even 80% of him would bring a level of deterrence to their defense they've been lacking, and simplify roles for everyone else on the floor.
But with his status up in the air for Game 3, most tweaks are going to come from within. The easiest one: Downsizing more often and leaning into more switching. If there's a path to beating the Heat while undermanned, it's by forcing them to work in the half-court. It's a lot harder to that if you're feeding them pockets of space to attack.