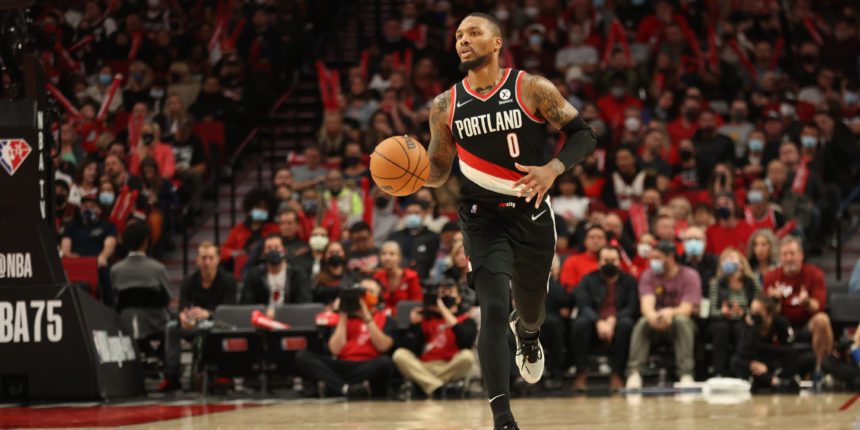 Damian Lillard freestyles about his loyalty to Trail Blazers
The following article first appeared on BasketballNetwork.net:
Damian Lillard is a generational player that any general manager dreams of building around — known for his clutch shooting, ridiculous range, leadership, and, most importantly, loyalty.
Blazers' Postseason "Success"
Drafted in 2012, Lillard is entering his 10th season with the Portland Trail Blazers, a franchise rich in history, but also one that has failed to last in the playoffs for the last 20-ish years. They've made it to playoffs eight out of nine seasons during Dame's tenure, which is a pretty good result. However, they've always ended up with the participation award, failing to last throughout and reaching the conference finals just once (and it was only to be swept by the Warriors in 2018).
The Paradox of Today's NBA
In the last 20 years or so, the NBA has expanded its fan base globally, becoming the leading sports organization of the digital age and bringing in colossal TV contracts. In doing so, the game of basketball has naturally changed. The concept of player loyalty that we used to have in the 1970s, 1980s or even 1990s is more rare than we've ever seen it. Players are given astronomical contracts based on their potential.
Some players have a considerably larger social media following than their franchises, essentially being more powerful brands than their actual employers. How crazy is that? In this paradoxical environment of the "players league" we have today, some occasionally end up using the power of their brand as leverage to push their way out of situations they may dislike. The Ben Simmons saga that has been all over the headlines in the last couple of months is one instance. James Harden pushing his way out of Houston to join his buddies in Brooklyn is another prime example.
Damian Lillard's Loyalty to Portland
Lillard is different from the others. There is no doubting that. He has always firmly stood behind his franchise, and has been grateful for the opportunity to have the "keys to the gym." In doing so, Dame has shown loyalty and love to the people of Portland and, most importantly, the Blazers. Lillard must have gone on record a couple of hundred times saying how he will never leave Portland up until this past offseason.
This offseason, Dame was in serious trade discussions after publicly voicing his displeasure with the front office for not bringing in new star power. The team remained pretty much the same, but Dame ended up staying true to his word and the organization, again, thanks to none other than his new head coach — Chauncey Billups.
"I think a big part of [my change in mindset] was me and Chauncey's conversations, and where we see things the same," Lillard said via The Athletic.
Lillard Freestyling About His Loyalty
In a recent video that went viral on Reddit, Dame was rapping about the Blazers, his teammates and his loyalty to the franchise. With his own lyrics, he said: "Me not wanting to join a super team might end up being my Achilles heel," and made mention of Bradley Beal, as well as Giannis Antetokounmpo and Dirk Nowitzki.
Babo 🔥 @Dame_Lillard pic.twitter.com/lXZOzxbN46

— Jusuf Nurkić (@bosnianbeast27) October 30, 2021
While we must appreciate Lillard for staying in Portland for so many years — through all the ups and downs — when someone needs to point out "loyalty" so often, it just becomes overkill.
I am confident there is nothing Dame wants more than winning the championship with his teammates in Portland, and for those fans. But let's remind him that Giannis, Dirk and others had to stick through the painful process of losing until they finally climbed to the top — and we didn't hear them overemphasizing their loyalty or complaining about the lack of star power.
Check out more articles from BasketballNetwork.net here.