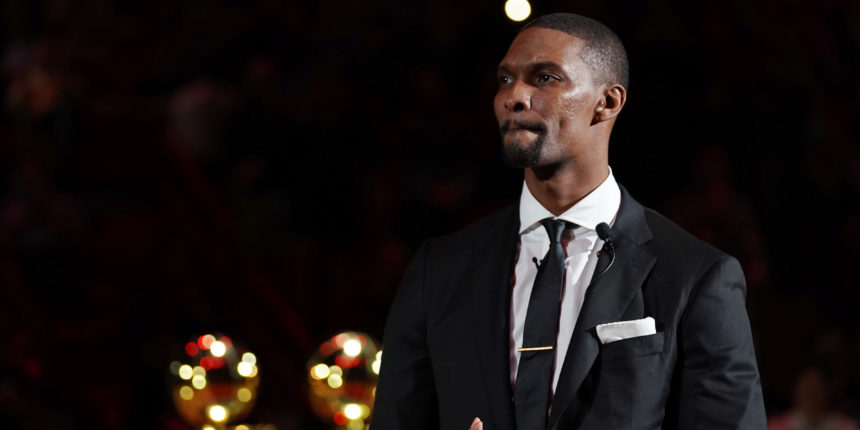 Chris Bosh reflects on his unique NBA journey in 'Letters to a Young Athlete'
On "The Daily Social Distancing Show" with Trevor Noah, Chris Bosh shared the motivations behind his new book, titled Letters to a Young Athlete. Bosh reflected on his unique NBA journey, which included an abrupt ending due to blood clots, and the mental side of retirement.
"From the moment I was born, and from the moment I could understand what it was, all I wanted to do was play basketball," Bosh said. "It gave me friends, mentors, fun, all the highs and lows -- that's how I did everything. That's how I identified myself as a person. And as I continued to go, I started to understand that there were so many valuable lessons that I learned on my way to the top, and in getting to the top and losing [it] so quickly, there were more lessons after that. And at the end of the day, we all have that inner voice inside of us, right, that's telling us that we can do things, or we can't do things. I just wanted to let people know that it's normal."
Part of that battle includes Bosh's discovery of a blood clot in his leg in 2016, which ended up sidelining the star power forward for the rest of his career. It was a sudden and shocking end to what had become Bosh's entire life.
"Basketball was everything for me, so to hear the fact that I can't play anymore at a time when I'm trying to redefine myself as one of the top players in the world -- it just couldn't be at that time," Bosh said. "It just couldn't be. But one thing I learned through basketball is that you have to keep going, regardless of the circumstance; we can't control what happens to us. So those are things that are out of our control.
"But what I can control," he added, "is what my reaction is going to be to that environment -- how I'm going to get up the next day and say, 'I don't know what I'm doing. I don't know what's going to happen, but I know it's going to be okay because now I'm going to put the shift to something else.'"
Bosh was also asked about his 2020-21 NBA title pick. He said he has the biggest rooting interest in the Phoenix Suns, and mentioned Chris Paul, Monty Williams, and former teammate and general manager James Jones as notable connections.
"Phoenix, they have been clamoring for a championship for a long time. So to see them have an extended playoff run and maybe even get one -- if I were to vote, that's who I vote for," Bosh said.