One month into the 2022-23 NBA season, the Utah Jazz have exceeded all expectations. After trading Donovan Mitchell, Rudy Gobert, Bojan Bogdanovic and Royce O'Neale and replacing head coach Quin Snyder with 34-year-old Will Hardy, Utah was expected to plummet down the standings and enter the Victor Wembanyama sweepstakes.
Instead, the Jazz are 10-6, with wins over the Denver Nuggets, Memphis Grizzlies, Atlanta Hawks, New Orleans Pelicans and Los Angeles Clippers among others. Utah currently has the NBA's seventh-best offense (scoring 111.4 points per 100 possessions) and 12th-best defense (allowing 108.7 points per 100 possessions).
They have a balanced attack, with six players averaging double-digit points: Lauri Markkanen (21.3), Jordan Clarkson (17.9), Collin Sexton (13.3), Kelly Olynyk (13.2), Malik Beasley (12.3) and Mike Conley (10.7). This team plays extremely hard and makes a ton of hustle plays.
And unlike the other franchises that were projected to tank entering this season, the Jazz aren't a super young team. Utah's roster has an average age of 25.86 years old, which is significantly older than the youngest teams in the league – the Oklahoma City Thunder (23.14), Houston Rockets (23.58), San Antonio Spurs (23.84) and Orlando Magic (23.94). While the Jazz are assembling an impressive young core, they've gotten huge contributions from experienced players like Markkanen, Olynyk, Clarkson, Beasley, Sexton, Conley and Jarred Vanderbilt.
Entering this week, Utah sat atop the Western Conference standings. However, after losing three-straight games, the Jazz have slid to fourth-place in the West.
Was Utah's early-season success a fluke or can they sustain this level of play going forward? Will they keep this core together or eventually trade away some of their veterans for additional draft picks and prospects? BasketballNews.com reached out to an anonymous NBA scout and picked their brain about Utah's impressive start to this season.
"They're off to such a hot start, and they've got a lot of guys who are really confident," the anonymous NBA scout told BasketballNews.com. "I'm a big Jordan Clarkson guy and he has really emerged. He's always been a scorer, but I think he knows that he has to be good night in and night out and he has to lead the charge for this team. Lauri Markkanen is killing it, and I'm really happy for him. This is what we thought Lauri Markkanen would be when the Bulls took him [No. 7 overall]. It took some time, but this is the guy we thought he might become. I think Kelly Olynyk is a great veteran, and so is Mike Conley. They have a solid bench with Collin Sexton. I'm a Walker Kessler guy; I think he's actually going to be a really good big. And then they've got Talen Horton-Tucker... When they acquired Ochai Agbaji and Leandro Bolmaro, I thought those guys would get an opportunity to play, but they really haven't gotten opportunities because there's so much depth! They have a lot of veterans who have been very productive.
"I just feel they made a lot of nice moves, even though they weren't considered 'sexy.' They weren't [additions] that many people thought would make this huge difference, but they're all playing really well together. I like their team, and I think they are coached really well. I think [their early success] is a testament to their coaching staff and the great job that they've done."
Is this sustainable? That's the question that everyone is asking about this year's Jazz. The NBA scout thinks that Utah is for real.
"I think it's sustainable," said the NBA scout. "They hear all of the noise [about tanking], and they heard it going into the year, but they've got a bunch of guys on that roster who know how to compete and play hard, they've got good leadership from their vets, they've got a lot of talent and guys who can play, and they have a lot of guys who have faced adversity at some point in their career. They're just kind of built in a unique way.
"As for what I've seen from them, obviously they can score on you in bunches. They have multiple guys who can initiate offense. They have bigs who can stretch the floor. They have shooting. One area that really matters once you get to the playoffs is legit rim protection, so hopefully Walker Kessler can be that for them. I think there are a few areas to circle and keep tabs on, but they're playing really well. They play hard and bring so much energy."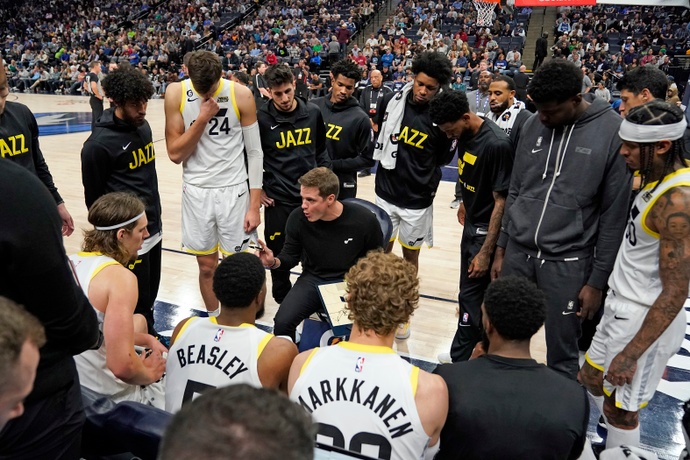 The scout had a ton of praise for Will Hardy, who is a first-time head coach.
"I think the coaching staff deserves a ton of credit. I think there's a bunch of buy-in and trust," the anonymous NBA scout said. "And when they have a deficit or they struggle in different phases, it seems like they always break through. They have a really good way of fighting through those struggles, and I think that's always a sign of a good team. It's a reason why they're one of the best teams in the league. They've won close games, and they've finished games where they didn't play well and found ways to win. I think that's a testament to the coaches and everyone over there.
"You look at everything that went on over this offseason, losing Quin Snyder was a big deal; I think Quin Snyder is a great coach. But it can't be overlooked the job that Will is doing. Will is a great example of a young coach who got his opportunity and made the most of it. You look at how these guys respond to him and what he's done so far, it's really impressive. I think there's a lot of great young coaches and assistants out there who are emerging, and that should be a bigger story. I think it's a great thing. As much as we talk about the young talent in the league and how the NBA is in great hands, it can't be overstated how good these young coaches have been and Will is a great testament of that. There are so many young coaches who are showing that they really know what they are doing, and I think that's great for the league."