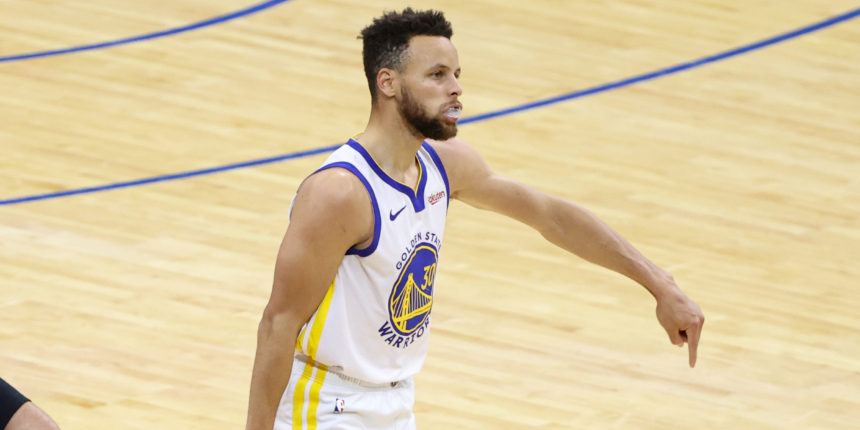 Can Stephen Curry make a late run at the NBA MVP award?
Following Stephen Curry's 49-point performance in a win over the Philadelphia 76ers on Monday night, the Golden State Warriors guard is now leading the NBA in scoring with 31.4 points per game. He surpassed Washington Wizards guard Bradley Beal, who's averaging 31.1 points.
To say that Curry has been on fire lately is an understatement.
Over his last five games, Curry is averaging 44.8 points, 9.2 threes, 5.2 rebounds and 5.0 assists, while shooting 55.6% from the field, 55.4% from three-point range and 91.0% from the free-throw line.
The Warriors are 4-1 over that stretch, including impressive wins over Philadelphia and Denver. He's putting the Warriors on his back, and they are now 1.5 games out of the eighth seed in the Western Conference.
This month, through 10 games, Curry is averaging 40.8 points, 7.2 threes, 6.2 rebounds and 4.4 assists, on 54.9/50.3/90.9 shooting splits.
"Nobody in the history of this game has ever done what he's doing right now," Warriors head coach Steve Kerr said. "And I'm talking the full gamut of shooting off the dribble, off the screen, running around like a madman when he's off the ball... There's something beautiful about it. It really is an art."
Philadelphia 76ers head coach Doc Rivers agreed.
"I don't know if I've ever seen anything like the run he's on," Rivers said of Curry. "I guarantee you there's no one that has scored (points) in the way he has."
If Curry can continue to produce at this ridiculous level and lift Golden State into the Western Conference's top-eight, could he make a late run at the 2020-21 MVP award?
Entering Monday's games, Curry's odds were 100-1 at DraftKings and there's little to no money being bet on Curry despite his recent production, DraftKings' head oddsmaker Johnny Avello said earlier today on The Sheridan Show. However, Avello predicted that will likely change very soon since Curry's odds are so low and he's playing some of the best basketball of his career.
This is one of the strangest Most Valuable Player races in recent memory, as there seems to be a new leader popping up every few weeks. As of now, Nikola Jokic is widely regarded as the front-runner. At one point, Joel Embiid and LeBron James were each viewed as the MVP favorite, until they suffered a significant injury and that hurt their chances.
James Harden, Giannis Antetokounmpo and Damian Lillard have been mentioned as legitimate candidates as well. Chris Paul, Donovan Mitchell, Kawhi Leonard and Luka Doncic (the preseason favorite) have gotten some buzz here and there, but they all seem like long shots.
But because this race has been wide open for so much of the season -- and there have been so many injuries that have shaken things up -- perhaps Curry has a chance to pull off an upset? He would need to continue to have jaw-dropping performance after jaw-dropping performance for the remainder of the season in order to have a legitimate shot.
However, NBA legend Magic Johnson believes that Curry can win the award. In fact, he currently has Curry as his front-runner.
"It's hard to deny Steph Curry from being the NBA's MVP! He is the #1, #2, and #3 option for the Warriors and is STILL dominating!!" Johnson tweeted.
"Since the All Star break, Steph, Joel Embiid, and Jokić have been the leaders in the MVP race," he added.
On Monday night, after Curry's 49-point outing, Magic doubled down on his prediction.
"Steph Curry left no doubt about who the real MVP is tonight! He scored 49 points and led his Warriors to victory over the Sixers 107-96," Johnson wrote.
We'll see if Curry can have another monster performance on Wednesday, when the Warriors take on the streaking Wizards. That game will be must-see TV, as Curry and Beal are the top two scorers in the NBA and are competing for the scoring title.