The Miami Heat and Denver Nuggets are each one win away from the NBA Finals.
That means the Boston Celtics and Los Angeles Lakers are each trying to do something that has never been done in NBA history: come back from an 0-3 deficit.
Teams that trailed 0-3 in the NBA playoffs have a 0-149 record all-time.
Here's a look at what the Celtics and Lakers are saying with their season on the line entering Game 4.
BOSTON CELTICS
The Celtics haven't looked like themselves during the Eastern Conference Finals.
After blowing double-digit leads in Games 1 and 2, they were blown out 128-102 by the Heat in Sunday's must-win Game 3. How will the team respond now that they're facing elimination on Tuesday night?
JAYSON TATUM: "As tough as it is, we've just got to try to move on. Prepare, get ready, practice, film and stuff for tomorrow. Obviously, we're in a tough position, but we've just got to have some pride, bounce back and just be better come Tuesday. … Definitely [need to] play better than we did tonight and have some pride, obviously, and believe that we've just got to win on Tuesday. That's just the message, the mentality that we have is: get a win on Tuesday. We'll figure the rest out from there."
AL HORFORD "This is a part of our journey right now. And right now we're in a low low, and rightfully so, we're being counted out because we haven't been able to respond. But we're not out yet. It is 3-0. I know what it looks like. I think I saw the other day, [0-3 teams have a record of] 0-149 or something like that. We're not out yet. We're still kicking – one of four teams that are still kicking. … This year, we've been able to bounce back and figure it out. Our backs are against the wall now, so that's something that we have to do."
JAYLEN BROWN: "I'm going to fight until the end. Try to get our guys ready for the next game, and we come out and we put our best foot forward. At the end of the day, that's what we've got to do, and that's just how I see it. The series isn't over yet. It's looking bad, but you come out, have some pride about yourself and put your best foot forward. … We've just got to come out and play basketball. Come out with a great mentality, come out and have some pride about yourself, come out and have some pride about who you're playing for, have some pride about whatever, and just come out and play basketball. I believe we can win the next one, so we've just got to come out and play."
JOE MAZZULLA: "I think the most important thing is just sticking together, and then I have to be better. I've got to put them in better positions. I've got to get them ready to play. I have to have the game plan ready for us to be physical and to execute, and it's important that we stick together. … I think it starts with we've got to defend, we have to get stops, we have to execute. When you do not execute on the defensive end and they make shots, then it affects the way you play offense. We just have to put our identity into our defensive execution first."
AL HORFORD: "We have to understand that our DNA, our core as a team, is on the defensive end. That's who we are, and that's something that we have to find if we want to come back and win this series."
JAYSON TATUM: "I deleted Twitter from my phone to start the playoffs. Honestly, I haven't seen anything good, bad or indifferent since Game 1 against the Hawks. I'm certain after every game you win, you're the best player and the best team, and when you lose, you're not the star and the team is not good enough. I'm certain there will be some of that, but out of sight, out of mind. You don't see it, because that's not what's important. What's important is the guys in the locker room, teammates, coaches, and we're all in this together just trying to figure it out."
Game 4 between the Celtics and Heat is Tuesday at 8:30 p.m. ET on TNT.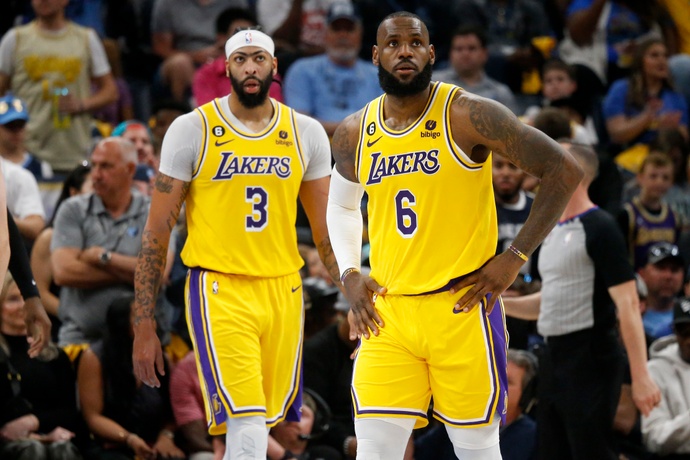 LOS ANGELES LAKERS
After the Lakers lost 10 of their first 12 games to start the season, their analytics department gave them a .3% chance of making the playoffs. One month ago, Lakers head coach Darvin Ham wrote ".3% PLAYOFFS" on a whiteboard in the locker room to remind the team that they've already done the unthinkable once this season.
Now, the odds are stacked against them yet again as they trail 0-3 against the Nuggets in the Western Conference Finals. This team spent the second half of the season clawing to keep their playoff hopes alive, and they're drawing on that experience now that their backs are against the wall.
But do LeBron James, Anthony Davis and Co. have what it takes to make NBA history?
ANTHONY DAVIS: "We never intend to pack it in. Obviously, as you see throughout the course of this season, we have always been a team to fight. We are resilient. Everyone keeps fighting 'til it's over. It's not over. They have to win another game. … [We were] 2-10, 13th place, climbing uphill basically all season to get to this point, and it's the same thing here. Obviously it's a steeper climb being down 0-3. But we are going to keep taking it one game at a time and try to get better and come out with a win on Monday."
AUSTIN REAVES: "Our backs have been against the wall. I've spoke about it probably the last two months – maybe more than that – since the trade deadline, [we've been] swinging, throwing punches to fight to get to this opportunity. We'll go watch film, and we can either come out Monday and go home or we can fight for another day. And with the group of guys that we've got, I know what that answer will be."
LEBRON JAMES: "I mean, just got to get one. Just one at a time. Just focus on Game 4, and you know, that's all you can really think about. … Just get ready for Monday and just got to get one. It's a one-game series for us. Every game counts, obviously."
DARVIN HAM: "I mean, I think the deficit is 3-0, not 4. So as long as they have not gotten to four yet, there's still hope. We're still alive. We just have to focus on winning one game."
ANTHONY DAVIS: "Take it one game at a time. You know, come Monday, leave it out on the floor, and try to get a win. Take it to Game 5, Game 6, Game 7. That's all you can really do. … We'll look at the film and see where we can get better, especially late-game [on] both ends of the floor, and then get ready to line them up on Monday and try to keep the season alive."
LEBRON JAMES: "I still [believe]. It's time to go right back home and start to refuel and start the treatment process and recovery process, and get ready for Monday. My mindset is always locked in as if it's Game 1."
Game 4 between the Lakers and Nuggets is Monday at 8:30 p.m. ET on ESPN.