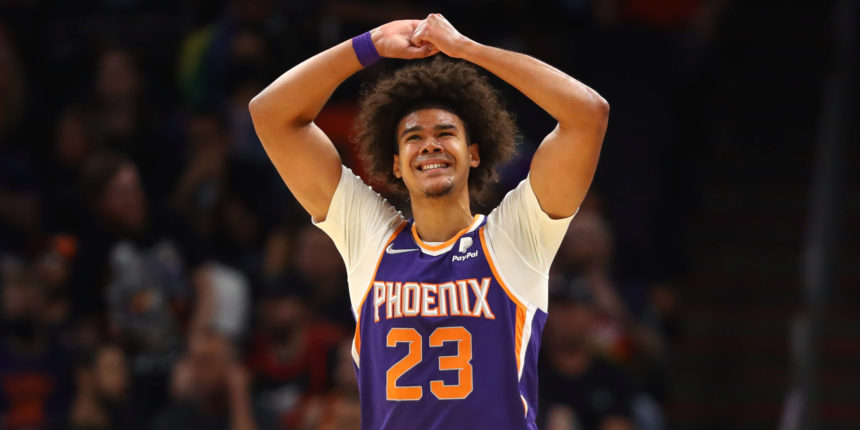 Cameron Johnson's ascension makes him a priority for the Suns
The Phoenix Suns have come a long way from where they were only a few seasons ago. At that time, they were consistent bottom feeders in the NBA, a true laughing stock due to their lack of improvement on, and overall dysfunction off, the basketball court.
Fast forward to today, and we can see that Phoenix has become a juggernaut. Chris Paul's arrival before the 2020-21 season launched the Suns into a new stratosphere the organization hasn't experienced since Steve Nash and Mike D'Antoni's Seven Seconds or Less era. Paul has helped push their promising young core forward, but all of the key 25-and-under pieces have taken serious steps forward in their own development.
Devin Booker is now considered a superstar shooting guard. Deandre Ayton's vast two-way growth has made him into a player poised to cash in this offseason as a restricted free agent. Mikal Bridges' elite defense and three-point shooting has him being considered among the NBA's most underrated wings.
However, one perhaps-overlooked piece of the puzzle, who is now blossoming into a full-blown valuable cog in the Suns' machine, is Cameron Johnson.
Many in NBA draft expert circles were quick to mock Phoenix for overthinking their pick — a reaction to the shock of the Suns' selection of the senior wing from North Carolina at No. 11 overall. Remember, this was after trading back five spots with the Minnesota Timberwolves to also acquire Dario Saric. Three years later, though, Suns GM James Jones seems to have been spot-on with his vision for bringing Johnson to the Valley.
Johnson entered the NBA as a well-known three-point marksman, but so many questions loomed about his defensive ability — as well as his ability to hold up over a full NBA regular season physically. Along the way, Johnson has answered all of those questions with ease while demonstrating his true ceiling — and doubtlessly increasing the value of his next contract.
Johnson is extension-eligible for the Suns after the 2021-22 season, and he's become a priority for the Suns to hold onto long-term. Without Johnson's all-around brilliance, Phoenix would not be sitting atop the Western Conference standings right now.
Johnson has scored in double figures in 18 consecutive games, averaging 15.6 points while hitting an incredible 48.8% of his three-pointers on a high volume of attempts. Johnson has hit two or more three-pointers in 20 straight games.
After the Suns' emphatic 106-89 win over the Los Angeles Clippers at the Footprint Center on Thursday, head coach Monty Williams let it be known that Johnson has the ultimate green light within their pass-happy "0.5" system.
"I just want him to shoot and make plays," Williams said postgame. "He had the one spin dribble where he spun into traffic, I thought that was the only negative play he made on offense. I liked the fact that he went to the basket — we tried to run an ATO for him, fake handoff and got him to the basket, he tried to dunk it, got it blocked by Serge (Ibaka), but Serge is one of the best shot blockers in the history of the game. But I just like when Cam is aggressive and attacking, not just shooting threes but getting to the paint and making plays."
When the Suns inevitably sign Ayton to a max rookie-scale extension this summer, Phoenix will officially be deep in the luxury tax. A true rarity during the ownership of Robert Sarver, he's rarely had to fork out that much money for his team. However, the real question becomes how willing will Sarver be to potentially wade even deeper into tax territory for this roster?
With the way Johnson is playing as of late, he's likely going to earn close to $20 million per year on his next contract thanks to his blossoming offensive game, headlined by his status as one of the NBA's best three-point shooters.
The future of the Suns' long-term core is already set. Booker, Ayton and Bridges are the three foundational pillars. Johnson, however, is making it known he could deserve inclusion on that list of core players as well.
Jae Crowder and Saric's contracts are up after the 2022-23 season, which would coincide with the first year of Johnson's new deal. The timing works out well, and it's hard not to envision how fun a Phoenix starting lineup of Paul, Booker, Bridges, Johnson and Ayton over the next three years would be. Outside of Paul, those four would form a lethal quartet throughout the 2020s in Phoenix.
During the Seven Seconds or Less era, Sarver let Joe Johnson walk as a restricted free agent because he refused to pay the luxury tax. As we all know, Johnson went on to put together an illustrious, Hall of Fame-worthy career elsewhere.
History could soon be repeating itself with Cam Johnson. This time around, though, the Suns need to pay up to keep a perennial title contender in place. His contributions are instrumental to the Suns' success, a fact that's now finally being displayed for the whole Association to see on a consistent basis.