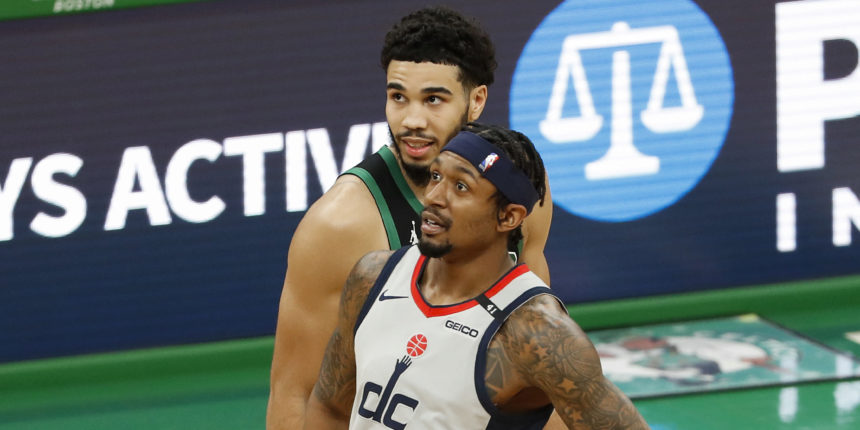 Celtics well-positioned to star-hunt following status-quo summer
The Boston Celtics are up to something.
Although it's been a quiet offseason, it's easy to read between the lines of how they're planning their next big move under former-head-coach-turned-general-manager Brad Stevens. Flexibility is the name of the game in today's NBA to keep all options open, and the Celtics now have it available in spades.
Beginning with their pre-draft trade that shipped out Kemba Walker and their first-round pick to the Oklahoma City Thunder for Al Horford, the pieces were being put together to optimally build a consistent contender around Jayson Tatum and Jaylen Brown. Walker's fit with the Celtics never materialized to levels they had hoped, and that was after a tumultuous Kyrie Irving divorce thanks to injury concerns and two-way stability alongside their young 1-2 duo on the wing.
Horford not only brings back a familiar face to the Celtics' locker room, which immediately helps team chemistry, but it gives Tatum even more chances to shoot the basketball. Tatum averaged 29 points per game once the calendar flipped to March, showcasing a blossoming game on the verge of superstardom.
With their two building blocks in place, Stevens sought out chemistry and flexibility for the future of the roster. Signing Marcus Smart and Robert Williams to long-term extensions was a savvy play not only because they're valuable pieces to the Celtics' current success, but they are not crippling salaries on annual value in case of potential trades down the road. The same goes for Josh Richardson, whom Boston acquired using one of its trade exceptions before free agency and signed to a one-year extension.
When diving into the numbers, it's eye-opening how calculated the Celtics are being right now. Sure, they would love to keep their current core together long-term surrounding Tatum and Brown, but the message is crystal-clear. Boston is on the hunt for another star with a bevy of manageable contracts, young prospects and future picks at its disposal.
One name that continues to make the most sense is Bradley Beal. Tatum and Beal are close friends who grew up in the same area of St. Louis, Missouri. Their bond runs deep, and Beal's fit next to his longtime friend in Tatum on the basketball court is simply phenomenal. Forming a lethal 1-2 scoring combination, the Celtics would put themselves in the same tier with Brooklyn and Milwaukee as top NBA Finals contenders year-in and year-out.
With no cap space to sign Beal outright — and he has a $36 million player option after next season that will likely be declined — Boston has the tools to create a compelling sign-and-trade offer so the Washington Wizards would not be empty-handed if Beal departed. Adding up the new deals for Smart (4-years, $77 million), Williams (4-years, $54 million) and Richardson, Boston has $41 million in salary between those three for 2022-23. That's right on the money for a potential Beal sign-and-trade next offseason. Other options include the double-expiring contracts of Horford and Richardson, but surely Washington would want something of value in return if Beal forced his way to a conference rival.
Sure, the Wizards can obviously play hardball to avoid a scenario like this, but player empowerment holds the cards nowadays. If Beal decides he wants to play with Tatum in Boston on a new massive contract, he's going to make sure it happens one way or another.
This is such an important year for the Wizards to help convince Beal their retooled roster is worthy of him signing a five-year supermax extension to stay in Washington. Adding Spencer Dinwiddie, Kyle Kuzma, Montrezl Harrell, Kentavious Caldwell-Pope and Corey Kispert adds versatility across the board after Russell Westbrook's exit to the Los Angeles Lakers. The roster is better suited to cater to Beal's strengths as an offensive engine that can score 30-to-40 points on any given night. However, will it be enough in the end when Beal has mentioned he wants to win big in the next stage of his career?
Well, one team is watching already, as Boston waits with bated breath to see what happens next in D.C. You'd assume that Tatum has to be Beal's ear constantly, wanting to team up with his friend. Now, everyone has to sit back and wait throughout the 2021-22 season to see if it happens.
Whether it be Beal or another star who eventually asks out around the Association, Boston's offseason moves signify something is eventually coming down the road with a massive splash.
As we've learned throughout NBA history, never count the 17-time NBA champion Boston Celtics from getting back to elite status.
Luring Tatum's All-Star friend away from a division rival would be one hell of a coup to do so.