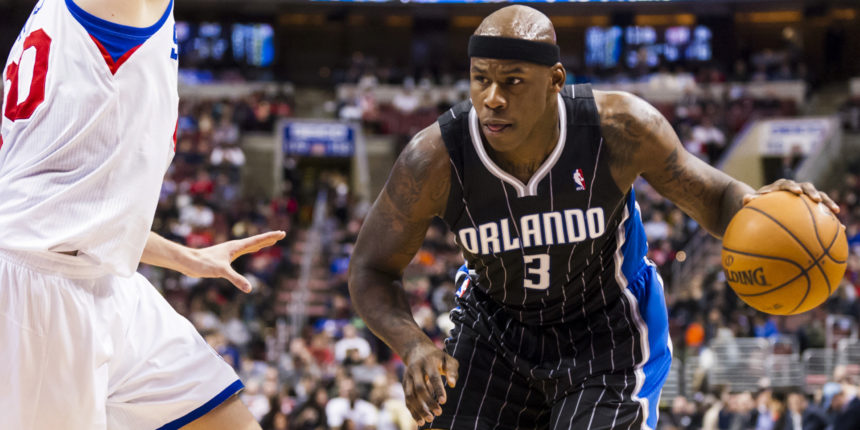 Al Harrington: 85% of NBA players smoke weed, stars to speak out soon
The NBA recently announced that players won't be randomly tested for marijuana throughout the 2021-22 season. While players will still be tested for performance-enhancing drugs and "drugs of abuse" (such as opiates, methamphetamines and cocaine), the league hasn't tested for marijuana since last year's NBA Bubble.
In recent years, 16-year NBA veteran Al Harrington has been speaking out about marijuana use in the league after starting a number of businesses that produce cannabis and CBD products (including Viola, Harrington Wellness, Butter Baby and re+PLAY Hemp).
Harrington stated that "85% of the players in the [NBA] smoke... or use some type of cannabis," but many have been afraid to publicize their marijuana use because of the stigma associated with the drug.
However, he says that is about the change.
"Even my best friends in the league, they didn't want [their] parents knowing they smoke or support a cannabis brand," Harrington told GQ. "But, this year will be the year we will be surprised. I know personally of a few athletes that'll push that line, and say they use and why they use."
Harrington specified that there are three "top-20-in-the-league-type guys" who are expected to speak out. He believes this will have a huge impact on how marijuana is perceived.
"It'll open up the conversation," Harrington told GQ. "These guys do use cannabis on a daily basis and that stigma of, you smoke and you're unproductive or lazy — that shit goes out the window. Right now in professional sports — being that it's pretty much allowed in all leagues right now, in some shape, form or fashion — the level of play is still through the roof... It's a safe and alternative way to deal with sh*t. Yes, we are supermen. We do make a lot of money. But we have a lot of stress and sh*t on our plate. Constantly. So what is our vice? What can we use to get away? What's available to us? Cannabis is recreationally available or decriminalized in 18 NBA markets. So, I pay taxes in this state, I hoop in this state, and you're trying to tell me I can't go to the dispensary? It makes no sense."
Kevin Durant may be one of those top-20 players that Harrington is speaking about. Durant recently partnered with Weedmaps, an online marketplace for cannabis consumers and businesses. When he announced the partnership, Durant spoke out about destigmatizing weed.
"I think it's far past time to address the stigmas around cannabis that still exist in the sports world as well as globally," Durant said. "This partnership is going to help us continue to normalize those conversations, as well as create content, events, and a lot more through our Boardroom media network. This is just the beginning for us."
NBA legend Allen Iverson recently became an ambassador for Viola, which is one of Harrington's cannabis businesses. Iverson has been open about his struggles with alcohol, and he openly wonders what would've happened if he had been able to turn to marijuana instead of alcohol when he was young.
"I used to smoke every goddamn day. It was the best feeling in the world," Iverson told GQ. "I used to smoke and not drink sh*t. [Or] I used to smoke a blunt and drink a Corona, and I'd be straight for the rest of the day."
Then, in 1997, Iverson was arrested and charged with possession of marijuana. As part of a plea agreement, he agreed to random drug tests every month for two years, 100 hours of community service and three years of probation. He also had to enter the NBA's drug treatment program.
"Once they put me through that program for a year, I felt like [smoking] wasn't worth it," Iverson said, adding that it made parts of his rookie season miserable. "I had to take a hiatus. That's what mighta turned me into a maniac with this Dom Pérignon. 'Cause I can't smoke no damn more."
For Iverson, marijuana never felt like a responsible option.
"[Weed] always had a negative stigma with it. Until all these years later, you find out you've had it all wrong," Iverson told GQ. "I remember getting arrested for having a blunt and being all on ESPN. I was taunted when I was playing. Called 'Weed Head' from people in the crowd. 'Where's the marijuana? Who's got the blunt, AI?' I had to go through that throughout my career, particularly when I was younger. And look how far it's come now. That stigma. Them criticizing it as they were, it's like, 'Y'all had it all wrong.'"
It remains to be seen whether the NBA's decision to suspend marijuana testing is temporary, but it certainly seems like the league is open-minded when it comes to this issue. Perhaps if some of the league's most notable players speak out (as Harrington predicts), the NBA will permanently do away with marijuana testing.