The 2021-22 NBA season has been the hardest of CJ McCollum's career.
Entering this campaign, he had spent the entirety of his NBA career with the Portland Trail Blazers, making the playoffs every year. Since getting drafted in 2013, he had only ever played for one head coach (Terry Stotts) and one general manager (Neil Olshey).
However, this season would be full of challenging firsts for McCollum.
Over the summer, he experienced his first coaching change, as the Blazers fired Stotts and his staff. Just as McCollum and his teammates were adjusting to new head coach Chauncey Billups, Portland announced that Olshey was under investigation after complaints of bullying, hostility and creating a toxic work environment. Shortly after, Olshey was fired, with Joe Cronin being promoted to interim GM midseason. McCollum was shocked and admitted that the turnover affected him.
"This is different than anything I've ever experienced because of the circumstances," McCollum told The Athletic in December. "This is the first year of my career where we lost our whole coaching staff, brought in a new coach, a new staff, the GM gets fired in the middle of the season... all of that affects you on the court. But there is no excuses. I didn't come here to tell you, 'There's a lot of sh** going on...' but yeah, there is. There's sh** going on every day. And I'm a fu**ing human being. But look, at the end of the day, my job is to play basketball. So, I go play basketball."
The day after Olshey was relieved of his duties, McCollum suffered what he thought was a rib injury during the Blazers' game against the Boston Celtics. However, a CT scan revealed that he had a collapsed lung, which would ultimately sideline him for six weeks.
Several weeks later, McCollum became a father when his wife, Elise, gave birth to their first child. Jacobi James McCollum was born at 11:59 p.m. on Jan. 10, 2022. Becoming a first-time parent is scary enough, but there are additional concerns and stressors when your baby is born during a pandemic.
"Try having a kid in the middle of COVID. That sh** ain't normal," McCollum told The Athletic in December. "Now, try having a kid during COVID amid trade rumors in the middle of the season."
Congratulations to @CJMcCollum & his wife Elise on the birth of their son,
Jacobi James McCollum! ðŸ˜

(via 3jmccollum / IG) pic.twitter.com/GSvzwkY1P6

— Portland Trail Blazers (@trailblazers) January 16, 2022
As McCollum mentioned, his name had been surfacing in trade rumors for much of the season. He wasn't a stranger to the rumor mill, but the rumblings had never been quite this intense. And with Portland struggling, a number of Blazers were looking over their shoulders and wondering what moves might be coming as the trade deadline approached.
"I'd be lying if I told you that we don't hear it or that it doesn't affect us at all," Blazers forward Nassir Little told me in December. "At the end of the day, we're people. I get the excitement of trades and the eagerness to talk about them, but you're talking about people having to move their families and basically break off relationships that they've built over the course of time and they have to start a whole moving process and adapt to a whole new situation. It's just a lot of things that go into getting traded as a player and those things don't really get taken into account [by fans]... There are a lot of different dynamics that are very taxing on somebody's mental when you get traded."
On Feb. 8, less than one month after his son was born, McCollum was traded for the first time in his NBA career. The Blazers dealt McCollum, Larry Nance Jr. and Tony Snell to the New Orleans Pelicans for Josh Hart, Tomáš Satoranský, Nickeil Walker-Alexander, Didi Louzada, a protected first-round pick and two second-round picks.
In other words, McCollum and his family suddenly had to move across the country. After an athlete gets traded, it's emotional and stressful since you're relocating to a new city on very short notice. Sometimes, players will live in a nearby hotel until they find a place to rent or buy. Going through that adjustment with a newborn is less than ideal.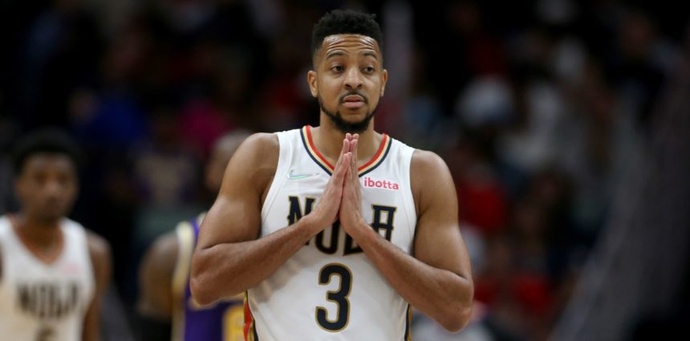 After nearly nine years in Portland, McCollum was starting over with a new organization. Fortunately for McCollum, the Blazers' front office gave him some say in where he ended up, so he was starting the next chapter of his NBA career in his preferred destination. Why was he drawn to New Orleans?
"It was a combination of things: the culture, the city, the people, the love — you can feel it, you know what I'm saying? I felt it from afar," McCollum said on the Knuckleheads Podcast. "I love the atmosphere. And if you do what you are supposed to do in a city like this, you will be loved forever. If you embrace them the way they embrace you, you can become legendary. I wanted to be where I was wanted, where I was needed. There's a lot of culture here, a lot of diversity and the food is fire. And they've got a lot of young talent. They've got a lot of really good basketball players."
McCollum mentioned Zion Williamson, Brandon Ingram, Jonas Valanciunas, Devonte' Graham and Herb Jones specifically, while also shouting out head coach Willie Green, general manager Trajan Langdon and executive VP of basketball operations David Griffin.
"There's a lot of talent on this roster, and I think I can get the most not only out of my career, out of my situation, out of my development, but also out of the guys," McCollum added. "I know what it takes to be successful consistently. And I can not only tell you about it, but I can show you because I've done it. I think that I'm just what they've needed and they're just what I've needed, especially at this stage in my life. And I think there's no better time for me to [make this move]. I'm 30 years old, I've been in the playoffs for eight straight years and I'm trying to make it nine."