The 2023 NBA Playoffs are off to a fantastic start, and many people are tuning in.
The NBA delivered its most-watched first round in nine years, with games across ABC, ESPN, TNT and NBA TV averaging 3.4 million viewers (which is up 15% vs. last year).
TNT delivered its most-watched first round in five years, averaging 3.5 million viewers (up 6% vs. last year). For Disney platforms (ABC and ESPN), it was the most-watched first round ever, with an average of 4.5 million viewers (marking an 18% increase from last season).
TNT, ABC and ESPN were the most-watched networks in primetime among viewers under 50 years old on 13 of the 14 nights of first-round coverage.
The outstanding seven-game series between the Golden State Warriors and Sacramento Kings led the way ratings wise.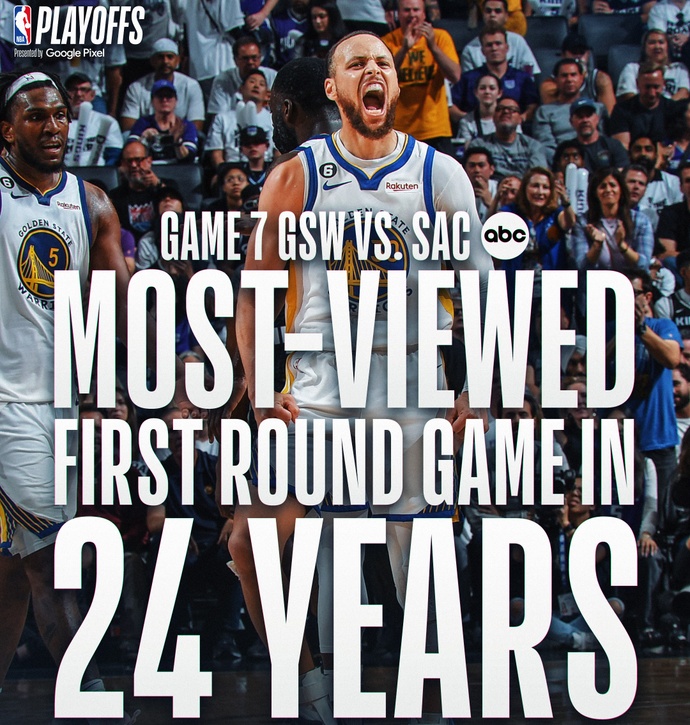 As we previously reported, Game 4 between the Kings and Warriors drew the largest audience for a first-round NBA playoff game across any network over the last 21 years, averaging 7,523,000 viewers and peaking with 10,406,000 viewers.
Unsurprisingly, Game 7 between the Warriors and Kings on ABC topped those numbers, averaging 9.8 million viewers and peaking at 11.9 million viewers. It became the NBA's most-watched first-round game in 24 years, and it was ABC's largest audience for a non-Finals postseason game ever.
Meanwhile, the NBA's app and socials generated a record 2.6 billion video views during the first round, up 46% vs. 2022. The NBA app recorded its most active users ever in a single day on April 30.