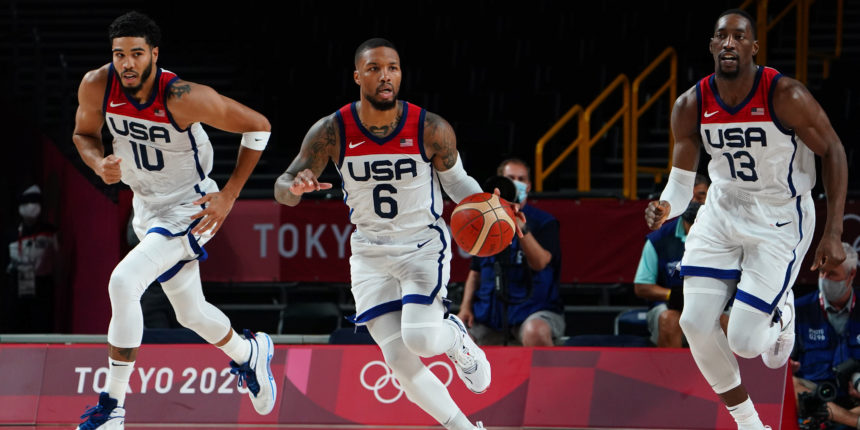 10 things to know ahead of USA-France Olympic gold-medal game
Team USA will take on Team France, also known as Les Bleus, in the gold-medal game at the Tokyo Olympics this Friday at 10:30 p.m. ET. The gold-medal game will be televised by NBC in the United States – the first men's basketball game to appear on the network's flagship station.
This will be a rematch of the first game each team played at the Saitama Super Arena, when France defeated the U.S. 83-76, outscoring Team USA 26-13 in the fourth quarter of the quarterfinal matchup.
These teams also played at the 2019 World Cup of Basketball in China, with France defeating Team USA by a final score of 89-79. The Bleus earned the victory by outplaying the Americans in the fourth quarter. Evan Fournier, now a member of the New York Knicks, scored 22 points while Rudy Gobert of the Utah Jazz scored 21 points to go along with 16 rebounds.
So France has a two-game winning streak over the U.S. and returns many of the same players from their team of two years ago, while the Americans are almost entirely different. Only Khris Middleton and Jayson Tatum (who was a DNP-CD in that game) remain on the roster. Kevin Durant has been the Americans' top player at the Olympics, averaging 19 points on 53% shooting from the field. He is trying for his third Olympic gold medal.
Here are 10 things to know going into the gold-medal game:
10. Point guard will be a critical matchup, with Jrue Holiday of the United States going against Nando de Colo of France. U.S. head coach Gregg Popovich coached de Colo for three years in San Antonio. After leaving the Spurs, de Colo played one season with the Toronto Raptors before moving back to Europe where he spent five seasons as the floor general for CSKA Moscow and one with Fenerbahce in Turkey. Holiday is the best perimeter defender on the American team, but had trouble with Ricky Rubio of Spain in the quarterfinals. In France's semifinal victory over Slovenia, de Colo scored 25 points to go along with seven rebounds and five assists. He had 13 points in France's 83-76 victory over the United States in the Olympic opener for both teams — a game in which France scored 16 of the game's final 18 points. He is shooting 47.1% on three-pointers.
9. Center may be an even more important position because French coach Vincent Collet used a Twin-Towers tandem of Gobert and Vincent Poirier in the first meeting between the teams, and the Americans did not have the size to match up. If it happens again, Popovich will have to weigh whether to use Bam Adebayo and JaVale McGee alongside each other for the first time, and no coach likes to put out a lineup in the ultimate game that he has never used before. Using Draymond Green alongside Adebayo is also an option. Gobert is averaging 11.4 points and 9.6 rebounds in just over 25 minutes per game. Poirier, who plays for Real Madrid, did not play against Slovenia and is averaging only 12 minutes per game.
8. One of the newest members of the New York Knicks, Evan Fournier, is averaging 19.2 points per game (two-tenths more than Durant) and is shooting 54.1% on two-pointers and 41.7% from three. He is France's featured scorer. He has scored above 20 points in four of five games, with his average getting affected when he played only 14 minutes against Iran. Fournier shot just 1-for-4 from the field in that contest. His best game came in the opener against the United States, where he went 11-for-22 from the field in 34 minutes.
7. Popovich has shortened his rotation and is relying most on Durant, Holiday, Tatum, Adebayo, Devin Booker, Zach LaVine, Damian Lillard and Draymond Green. But Lillard comes with a caveat, because he has been subbed out for matchup purposes when his defense could be a hindrance. That happened against Spain when Cleveland's new point guard, Ricky Rubio, went off for 38 points. One of the intriguing questions going into the gold-medal game is whether Pop will value Lillard's offense as a necessary component to getting the victory. Collet's lineup choices will have an impact on that question.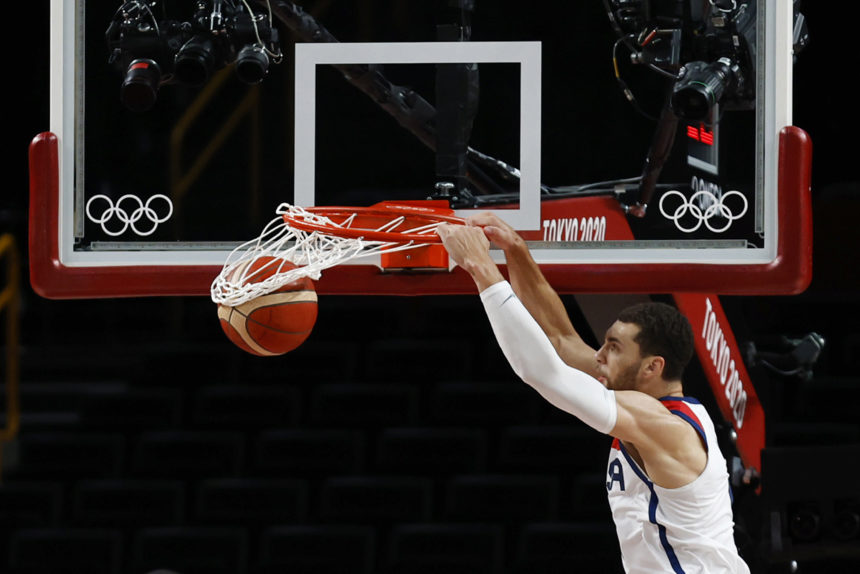 6. Green has only missed two shots in the Olympics, but he has only taken nine, despite playing an average of 18 minutes per game. Green is 3-for-3 on three-pointers and has made all four of his foul shots, but he also leads Team USA with 20 fouls and is the 10th-leading scorer at 4.2 points per game. He was placed on the roster because of his versatility on both ends of the court, and defense has been the one constant for the Americans in their victories.
5. The Americans have been called for 100 fouls, compared to 79 for their opponents. Under FIBA rules, a disqualification comes after the fifth foul – and technicals (called an "unsportsmanlike foul" in FIBA) count against a player's total. The refereeing has been par for the course as far as FIBA goes, with lots of physical contact allowed under the basket and in the open court. However, ticky-tack reach-in fouls are also whistled at random times. The referee assignments for the gold-medal game will be closely watched by the American federation, which keeps copious stats on different international referees' tendencies. None of the officials will be from France or the United States. No NBA referees are working the Olympics.
4. Is LaVine Team USA's secret weapon? The Chicago Bulls' All-Star — who will now be teaming up with DeMar DeRozan, Lonzo Ball and Alex Caruso — will be the top three-point shooter (percentage-wise) in this game, hitting them at a 47.6% clip. But he is averaging only 19.6 minutes per game, despite being second on the team in assists (20) and being perfect from the foul line (5-for-5). He is getting squeezed in the rotation somewhat because so many of the American players are wings, and if he comes into the game against France and has a hot hand, it will be interesting to see whether Popovich rides him. LaVine is just ahead of Adebayo and just behind Booker in terms of minutes played per game.
3. Pressure is one of the biggest intangible factors in any basketball game, but much more so in a gold-medal game. Durant has played in three of them, and nobody on France has played in a single one in the Olympics. At the 2019 World Cup in China, Gobert was only 1-for-3 from the field and was outscored 28-3 by Luis Scola of Argentina in a semifinal game. Fournier shot only 6-for-17 in that loss, and de Colo came off the bench behind Frank Ntilikina and scored 11, while Nicolas Batum was just 1-for-6. Those stats do not exactly inspire "confiance" – the French word for confidence. Durant had 30 points in a 96-66 gold-medal victory over Serbia at the 2016 Olympics and another 30 points in America's 107-100 victory over Spain in the gold-medal game of the 2012 Olympics.
2. Statistics other than points often paint a clearer picture of what certain teams are doing particularly well. The Americans have 50 steals to their opponents' 27, 26 blocks compared to nine for their opponents and are forcing 17 turnovers per game compared to 10.9 by their opponents. They are also outrebounding their opponents by 1.6 per game despite being beaten in that category in their opener against France, 42-38. In five games, their opponents have combined for only 85 third-quarter points – an indication that they come out of halftime at each game with a strong defensive mindset, something we saw against Australia in the semifinal when they outscored the Boomers 32-10 in the third.
1. Despite Durant already having two of them, a gold medal is an extraordinarily difficult thing to earn. Most NBA players have none and will never have any, so this opportunity is extra special and will bring out the best in the best competitors. What should worry the Americans is having a close game late in the fourth quarter, because that is when the strangest of strange things happen. At the infamous 1972 gold-medal game between the Soviet Union and the United States, the final play was replayed twice despite a jury (yes, they have a jury at gold medal games) ruling in the Americans' favor on one disputed play. It was overruled by the head of FIBA, who came down from the stands and ordered the final inbounds play to take place a third time. Team USA won the silver medal at those games, but those medals have remain locked in a vault in Geneva, Switzerland ever since, because every player on the American team refused to accept them.
So it's okay to expect the unexpected, despite Team USA being favored by 12.5 points.