Prior to this year's NBA Trade Deadline, BasketballNews.com rounded up its writers and asked them to share their thoughts and predictions ahead of Thursday's flurry of moves. Over the next few days, we'll be dropping a number of these Roundtable articles. Today, we asked our staffers:
Who's the biggest name that will be traded?
Alex Kennedy: NBA executives are expecting mostly minor moves prior to the trade deadline since many big names already found new homes earlier this season (including James Harden, Jarrett Allen, Caris LeVert, Victor Oladipo and Blake Griffin). However, there are a few notable players who could be dealt. It remains to be seen if the Miami Heat or Philadelphia 76ers can pull off a trade for Kyle Lowry, which would easily be the biggest deal. If Lowry isn't moved, I believe Oladipo will get dealt for the second time this season and be the biggest name to change teams.
Nekias Duncan: The easy answer is Kyle Lowry, especially since there seems to be a lot more smoke around a Miami push. I just have this sneaking suspicion that this ends with Lowry staying put. So with that, I'd say Aaron Gordon goes elsewhere. A lot of teams could use that blend of athleticism, finishing, short-roll passing and defensive versatility.
Chris Sheridan: It seems clear that the Houston Rockets have no choice but to turn Victor Oladipo into a rental. He was the centerpiece player that they got back for James Harden, but he clearly wants out. Rafael Stone has to become an auctioneer, basically, so that the rebuild can continue. Aaron Gordon is not necessarily a "big name," but he could be the biggest impact player for a contending team that needs one more piece. But an Oladipo trade seems more of a certainty than a Gordon trade.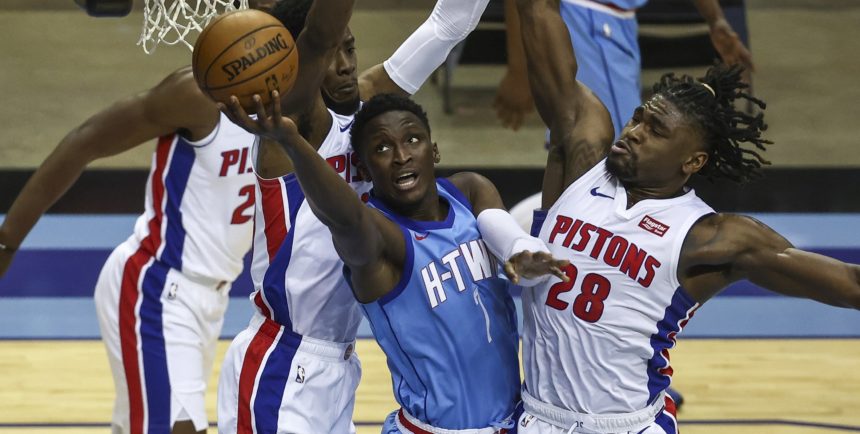 Spencer Davies: From what we understand, this will not be a trade deadline involving too many eye-popping talents on the move, so don't expect fireworks. Victor Oladipo and Kyle Lowry are the flashiest talents that come to mind, and their respective situations seem to be leading to a change of scenery. Andre Drummond is another player to look out for in this regard, as Cleveland Cavaliers general manager Koby Altman has a reputation for surprising us before the 3 p.m. ET buzzer. Let's remember that it would likely take a three-team deal in order for these three players to be moved with their salaries, though.
Jannelle Moore: At this point, it seems like the biggest names that will be moved are Aaron Gordon and Lonzo Ball. Gordon officially requested a trade, and the Boston Celtics are reportedly the front-runners to acquire him. Ball is another name to watch since rumors have been gaining significant traction.
Moke Hamilton: Like most others, I'd probably bet on Victor Oladipo. The Rockets clearly aren't building around him, and he's probably going to command a hefty salary this summer when he hits free agency. Houston simply can't afford to lose a player of his caliber for nothing, so dealing him to a fringe contender who thinks he can be a part of the solution would make a lot of sense. Seeing Aaron Gordon and Lonzo Ball with new uniforms would make a ton of sense, as well, but Oladipo is probably the biggest name.
Jonathan Concool: Lonzo Ball. This New Orleans Pelicans team has way too much talent to be sitting six games under .500, and I think Ball will be the fall guy as the deadline approaches. Brandon Ingram and Zion Williamson are clearly the franchise's cornerstone pieces, and having a guard like Lonzo on the team is only hurting them. The Pelicans will benefit with Nickeil Alexander-Walker starting at guard, allowing Ingram and Williamson to take up the ball more.