Every offseason, NBA teams scramble to secure the services of top-tier talent to bolster their rosters. While some signings have fallen short of expectations, others have left an indelible mark on the league, elevating their teams to new heights and etching their names in basketball folklore.
In this article, we unveil the greatest free-agency signings in NBA history, highlighting the impact these players had on their respective franchises and the league as a whole.
HEAT SIGN LEBRON JAMES, 2010
In the summer of 2010, LeBron James set the basketball world ablaze by joining forces with Dwyane Wade and Chris Bosh in Miami. This move instantly transformed the Heat into a powerhouse and created a new era of superstar-driven teams. Over four seasons, James led the Heat to four consecutive NBA Finals appearances, capturing two championships in the process. His decision to join Miami sent shockwaves throughout the league and forever changed the dynamics of free agency.
LAKERS SIGN SHAQUILLE O'NEAL, 1996
In 1996, the Los Angeles Lakers signed the league's most dominant center, Shaquille O'Neal, in one of the most impactful free-agency moves in NBA history. O'Neal's arrival rejuvenated the franchise, forming a dynamic duo with a young Kobe Bryant. Together, they would go on to win three consecutive NBA championships (2000-2002) and establish the Lakers as a perennial title contender. O'Neal's combination of size, skill and charisma made him an iconic figure, and his impact on the Lakers' success cannot be overstated.
WARRIORS SIGN KEVIN DURANT, 2016
Kevin Durant's decision to leave the Oklahoma City Thunder and join the already formidable Golden State Warriors in 2016 sent shockwaves through the NBA. The signing of Durant created one of the most dominant teams in league history, with the Warriors boasting an unprecedented lineup of stars. The Warriors were coming off of a 73-win season led by Stephen Curry, Klay Thompson and Draymond Green, so KD gave them an embarrassment of richs. Durant's arrival immediately elevated Golden State's championship chances, and the team went on to win back-to-back titles in 2017 and 2018. Durant's seamless integration into the Warriors' system showcased his versatility and cemented his status as one of the game's premier players.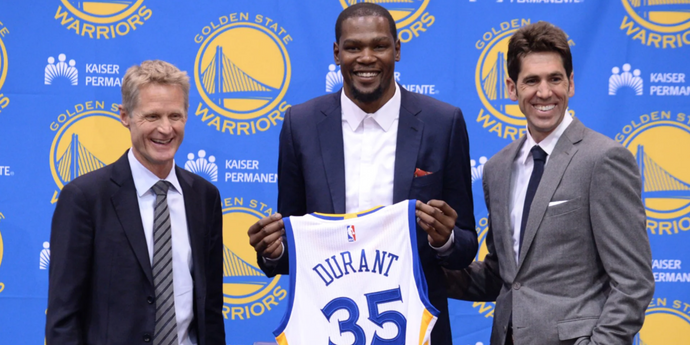 CAVALIERS SIGN LEBRON JAMES, 2014
Yes, LeBron James is on this list twice. In 2014, James decided to return to his hometown team, the Cleveland Cavaliers. After departing for the Miami Heat in 2010, James had achieved tremendous success, capturing two championships and solidifying his legacy as one of the all-time greats. However, his return to Cleveland showcased a profound sense of loyalty and a desire to bring a long-awaited championship to his beloved city. The move electrified the Cavaliers' fan base, instantly transforming them into title contenders. In 2016, James delivered on his promise, leading the Cavaliers to their first NBA championship in franchise history, overcoming a 3-1 deficit in the Finals against the mighty Golden State Warriors. His return to Cleveland and subsequent championship victory marked a triumph of redemption.
LAKERS SIGN LEBRON JAMES, 2018
Look, whenever a team has been able to land LeBron in free agency, it has led to at least one championship and been a big deal. In 2018, it was the Los Angeles Lakers who won the LeBron sweepstakes. James' arrival instantly restored hope and expectations for the franchise, as he brought his unparalleled basketball prowess, leadership and championship pedigree to a team in need of rejuvenation. James transformed the Lakers into immediate contenders, leading them to their first playoff appearance in seven years during the 2019-2020 season. Beyond the on-court success, James' influence off the court revitalized the Lakers' culture, fostering a winning mentality and attracting other marquee players to join him in Los Angeles (particularly Anthony Davis). James and Davis would lead the Lakers to a championship in 2020, and they continue to go on deep playoff runs to this day.
SUNS SIGN STEVE NASH, 2004
When Steve Nash returned to the Phoenix Suns in 2004, few could have predicted the revolution he would ignite. Nash's signing marked a turning point for the Suns, as he spearheaded the "Seven Seconds or Less" offense under coach Mike D'Antoni. The fast-paced, high-octane style of play became synonymous with Nash's tenure in Phoenix, leading the team to four consecutive 50-win seasons and two MVP awards for the Canadian point guard. Nash's arrival reinvigorated the Suns' fan base and left an indelible mark on the franchise's history.
What is your favorite free-agency signing in NBA history? Tweet us at @basketbllnews!