Following the Phoenix Suns' shocking postseason exit, all eyes are now on Deandre Ayton's free agency.
After the Suns declined to sign Ayton to a five-year, rookie-scale max extension before the 2021-22 season, restricted free agency is now on the horizon for the athletic big man. During the NBA Draft Combine in Chicago, Ayton's agent Bill Duffy discussed Ayton's future on SiriusXM's NBA show.
"We're disappointed. We wanted a max contract," Duffy said. "He went out and was a solider the whole year, played well, improved his statistics. So, we're proud of him. A lot of guys handle things differently, but he was very mature about it. Things will work out for Deandre. He's a valuable player. There's other teams in the league as well. He's a restricted free agent, so we'll see how this process unfolds."
Ayton averaged 17.3 points, 10.0 rebounds, 1.5 assists and 0.7 blocks on a career-high 65.6% True Shooting percentage during the 2021-22 campaign. Ayton was a key asset for the Suns on both ends of the court, especially around the basket as an easy lob threat and defensive anchor. Ayton has been a key piece for the Suns, but is he worth a max contract? Based on Duffy's comments earlier this week, it sounds like Ayton's camp won't settle for anything less than the max entering free agency.
From the Suns' perspective, they saw improvement from the 2018 No. 1 overall pick this season before the team's disappointing postseason showing.
"I think he's shown that he's improved each year, helps us on both the defense and the offense," Suns owner Robert Sarver told BasketballNews.com recently about Ayton. "I think offensively, you see this year he's taken another good step in terms of his touch and his ability to score around the basket. So, he's been a key part of what we're doing."
Taking all of this into consideration, what if Ayton's days in Phoenix are numbered? Here's a look at the most realistic sign-and-trade destinations for Ayton this summer.
Note: It's important to remember that sign-and-trade deals rarely return the same value as a traditional trade. The Suns have let it be known that they won't simply let an asset like Ayton walk for nothing. If Ayton's time in Phoenix is indeed over, the Suns won't be leaving the relationship empty-handed.
San Antonio Spurs
Spurs receive: Deandre Ayton
Suns receive: Jakob Poeltl, Devin Vassell, Tre Jones
San Antonio is one of the few teams this offseason with secured max-level cap space. All that needs to be done in order to chase Ayton is renounce the restricted rights to Lonnie Walker.
Being at the bottom of the NBA standings is new for the Spurs. After being one of the league's model organizations for over two decades, they have officially hit a playoff drought. San Antonio was hoping for some lottery luck, but now they have to try another plan to bring in a star.
San Antonio's dynamic young duo of Dejounte Murray and Keldon Johnson is so fun to watch, but the they need a third game-changer to take this rebuild back into playoff mode. Ayton would be an ideal solution, mainly because of his excellent two-way fit in the Spurs' system. Dropping Ayton into the Spurs' player-development program could make some in Phoenix worry about the long-term consequences of this deal.
For Phoenix, cooperating with a long-time rival would hurt. However, if the relationship between team and player becomes fractured, the Suns won't have much of a choice if he finds a max offer on the open market.
The Suns won't let Ayton leave Phoenix unless they receive strong assets in return. The Spurs can actually provide a solid package that helps in the short and long-term.
In this deal, Phoenix could land one of the most underrated big men in the Association as well as two young players who have shown flashes. The Jalen Smith experiment was a disaster for the Suns after taking him No. 10 overall in the 2020 NBA Draft, and Vassell went one pick later. Phoenix can right that wrong while also obtaining an intriguing point guard to develop in Jones.
This feels like a win-win for both sides. San Antonio would have a new Big 3 in Ayton, Murray and Johnson, while the Suns could acquire their new starting center and two pieces to bolster the bench unit.
Charlotte Hornets
Hornets receive: Deandre Ayton
Suns receive: Terry Rozier, PJ Washington and draft compensation
There might not be a team with a more dire offseason need than the Hornets and their hole at center. Charlotte was one of my NBA League Pass teams this season due to their fun offensive pace, but the defense often bordered on disastrous. Montrezl Harrell and Mason Plumlee aren't going to cut it, so it's time for Charlotte to get aggressive.
Given Charlotte's roster, they would have to move some salaries around to make an Ayton chase realistic. Offloading Gordon Hayward's contract is going to be a tough task and they may even have to relinquish one of their top-15 picks to do so, but it would have to happen in order for them to pursue Ayton. Hayward is due $61.6 million over the next two seasons, and Charlotte simply can't afford to keep biting that bullet with restricted free agent Miles Bridges due for a payday and LaMelo Ball's own rookie-scale extension on the horizon. Trading away Hayward and Mason Plumlee would give the Hornets max space.
Landing Ayton is Charlotte's dream scenario. Not only would Ayton continue to get spoon-fed easy looks from an elite point guard, he would help stabilize the Hornets' defense to respectable levels. Thanks to his freakish athleticism, Ayton would be able to cover up a lot of holes around him defensively.
Phoenix would love to pull off a double sign-and-trade to nab Bridges, but that seems unlikely. Instead, this deal allows them to find their long-term answer at point guard post-Chris Paul. While Terry Rozier is a shot-chucker, he has improved as a playmaker in Charlotte. In the short-term, Rozier could step in as the Suns' sixth man and provide the exact boost that they need in offensive guard creation. PJ Washington is an interesting add because he could slide right into the small-ball 5 role played previously by Dario Saric.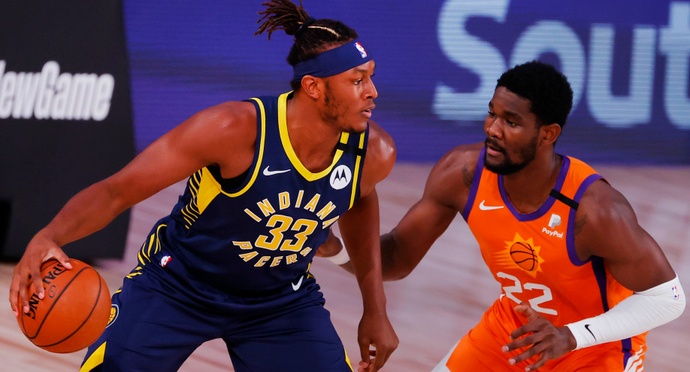 Indiana Pacers
Pacers receive: Deandre Ayton
Suns receive: Myles Turner, Chris Duarte, TJ McConnell
What's the next step for Indiana? Long gone are Victor Oladipo, Domantas Sabonis and Caris LeVert. Malcolm Brogdon, Myles Turner and Buddy Hield could be the next Pacers veterans to be shipped out via trade as Indiana fully embraces a rebuild attempt. It's been long overdue for the Pacers to pull the plug on the core that continued to stagnate once the postseason arrived.
A year later, Indiana's future looks much brighter with a talented, new-look core of Tyrese Haliburton, Chris Duarte, Isaiah Jackson and whoever is selected at No. 6 overall.
Ayton couldn't ask for a better pick-and-roll partner than Haliburton. Already making magic happen with CP3, Ayton's rolling ability would help accentuate Haliburton's biggest strengths. Also, Ayton's defensive versatility would be a welcome arrival for a team that nosedived in that category last season.
For Indiana, the price would be hefty. Not only would this trade require a four-year max contract for Ayton, but the Pacers would likely need to ship out a key piece of their young core via sign-and-trade (such as Duarte).
This trade would be a huge win for Phoenix, but it also looks great for the Pacers. The Suns would have a starting center who adds floor-spacing equity and elite rim protection, a capable veteran backup point guard who can spell Paul at times, plus one of the most impactful rookie wings in the Association. Having to include Duarte could leave the Pacers apprehensive, but they are reportedly enamored with adding another explosive piece via the draft, as Jaden Ivey (Purdue), Shaedon Sharpe (Kentucky) and Bennedict Mathurin (Arizona) have all been linked to Indiana early in the pre-draft process.
Detroit Pistons
Pistons receive: Deandre Ayton
Suns receive: Jerami Grant, Isaiah Stewart, Cory Joseph and draft compensation
Another team that has considered making a run at Ayton this offseason is the Pistons, and they can create max space very easily: trading away Kelly Olynyk's contract.
The Pistons struck gold with Cade Cunningham and Saddiq Bey and they are helping usher in a new era in Detroit. Ayton's arrival would be the final piece to the puzzle for a team seemingly pushing their chips in on postseason play as early as 2023.
It would be best for Ayton to land with a capable lead guard who can feed him regularly. Already capable of tallying 20 and 10 most nights, Ayton would be set up for long-term success alongside Cunningham and Bey.
The question is, what would the Pistons need to send Phoenix's way in order for this sign-and-trade to go through? It's going to be a lot, and it would be a blockbuster-type transaction.
Blockbuster indeed, because Grant is now heading back to the Valley in this scenario. If the Suns and Pistons want to cooperate on a Ayton deal, I have to imagine one of Grant or Bey would have to be involved. Stewart is another enticing trade chip because he's shown the versatility to space the floor from three-point range. While he doesn't have the same touch as Ayton, Stewart brings nastiness and a tenacity on both ends of the court that Phoenix would absolutely love.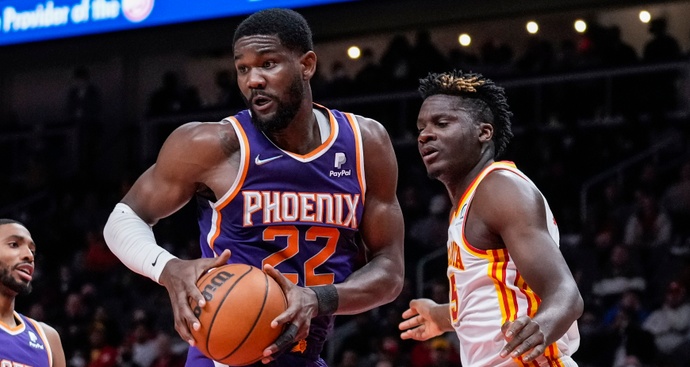 Atlanta Hawks
Hawks receive: Deandre Ayton
Suns receive: Clint Capela, Bogdan Bogdanovic
No ifs, ands or buts about it, Trae Young would make Ayton an All-Star next season. What a fun inside-out duo this is to envision. While Atlanta is nowhere close to reaching the necessary cap space to absorb a massive Ayton deal on their own, a sign-and-trade becomes feasible with all of the talent that could fit into the Phoenix roster.
For the Hawks, Ayton represents another foundational building block to place alongside Young for the long-term. John Collins could be the guy, but he's been in trade rumors for the past year with no signs of those slowing down. Onyeka Okongwu could also grow into that role, but the Hawks signing Clint Capela to a long-term extension perhaps signals that they see him more as a piece to the puzzle rather than a true building block.
Ayton would arrive in Atlanta and instantly average around 23 points and 12 rebounds per game. On box-score fit alone, this would be the best landing spot for Ayton thanks to the greatness of Young.
If Phoenix had drafted Luka Doncic rather than Ayton at No. 1 overall in 2018, Phoenix may have considered adding Clint Capela to their frontcourt. Four years later, Capela being re-routed to Phoenix in an Ayton sign-and-trade is a plausible scenario to imagine. Capela would provide similar numbers to Ayton while requiring less of an offensive workload. Meanwhile, Bogdan Bogdanovic might vault to the top the NBA's Sixth Man of the Year leaderboards in the near future. Bogdanovic and Cameron Johnson leading the Suns' second unit? That's a filthy thought.
***
None of these trades are perfect, but they do illustrate how challenging it will be for Phoenix to find a home for Ayton while also returning the value they'd love to get back for him. Ultimately, it may be in the Suns' best interest to re-sign Ayton this offseason and trade him at some point down the road when his value isn't so depressed.
Whatever happens, Ayton's name will continue to pop up in rumors throughout the spring and summer until the Suns and Ayton's camp find common ground at the negotiation table. This situation could become awkward and dragged out, which would surely kick the trade rumors into high gear. This isn't the last we'll hear about Ayton and the possibility of him changing teams.