One of the most underrated honors in all of basketball is the NBA's Most Improved Player award.
The league is full of young, developing talents, so being selected as the player who made the biggest strides is an incredible accomplishment. This award can also be a testament to getting your career back on the right track, as was the case with last year's recipient Lauri Markkanen. Many people were ready to give up on Markkanen becoming a star-caliber player, but a change of scenery allowed him to emerge as an All-Star and post career-highs across the board with the Utah Jazz.
The race for this year's Most Improved Player award will be very interesting, as the last few drafts featured a plethora of talent. Here are my top-five candidates for the Most Improved Player award entering the 2023-24 NBA season:
1. Mikal Bridges, Brooklyn Nets
Mikal Bridges' play became one of the most fascinating storylines during the second half of last season. Bridges was known as an elite second or third option, but he stepped up as the Brooklyn Nets' No. 1 scorer after they acquired him from the Phoenix Suns as part of the Kevin Durant blockbuster trade. Whenever a team is trading one of the best players of all-time, it's difficult to get equal value in return. However, this deal ended up being a win-win. As soon as Bridges was traded to Brooklyn, he made an immediate impact on both ends. The Nets were projected to fall in the standings and miss the playoffs. However, Bridges had something to say about that.
In 27 games with Brooklyn, Bridges averaged 26.1 points, 4.5 rebounds, 2.7 assists, 2.5 threes and a steal, while shooting 47.5% from the field, 37.6% from three and 89.4% from the free-throw line. These are elite numbers. On the season, Bridges played 83 games and averaged 20.1 points, 4.4 rebounds and 3.3 assists. These are still great numbers, but it's clear that he took his game another level during the small sample size we saw of him in Brooklyn. If he can produce at that level over a full season and continue to thrive as the Nets' first option, he will, without a doubt, win the Most Improved Player award. DraftKings, FanDuel, Caesars and BetMGM currently have Bridges as the favorite to win the award.
2. Alperen Sengun, Houston Rockets
One of the most underrated candidates for this award is the young Turkish star Alperen Sengun. In just two seasons, Sengun has become one of the better offensive centers in the league. The Houston Rockets big man was very productive in 28.9 minutes per game, and he could take a massive leap this season. He finished last year averaging 14.8 points, 9.0 rebounds and 3.9 assists, which is already very solid for a young center. However, his per-36 averages were 18.4 points, 11.2 rebounds, 4.8 assists, 1.2 blocks and 1.2 steals – fantastic numbers for a second-year player.
With his minutes likely increasing and Sengun continuing to develop, he could be in for a huge season. The Rockets are looking to climb up the Western Conference standings after adding Fred VanVleet, Amen Thompson and Dillon Brooks this summer, and Sengun could play a major role in their turnaround. Sengun has the fourth-best odds in the Most Improved Player race on FanDuel.
3. Austin Reaves, Los Angeles Lakers
Despite entering last season as a role player for the Los Angeles Lakers, Austin Reaves has become a household name among NBA fans. Prior to his game being on display with Team USA as they compete for the World Cup, Reaves put on a show in the postseason for the Lakers. During the regular season, Reaves averaged 13.0 points, 3.4 assists, 3.0 rebounds and 1.3 threes on 52.9/39.8/86.4 shooting splits.
Then, in the playoffs, Reaves made a huge leap and averaged 16.9 points, 4.6 assists, 4.4 rebounds and 2.4 threes on 46.4/44.3/89.5 shooting splits. He displayed abilities that were far beyond those of a role player, and he will prove to be a very important piece for this Lakers team next season. Reaves' success didn't go unnoticed, as the Lakers signed him to a four-year, $53 million contract this offseason. Reaves has the fourth-best Most Improved Player odds on DraftKings.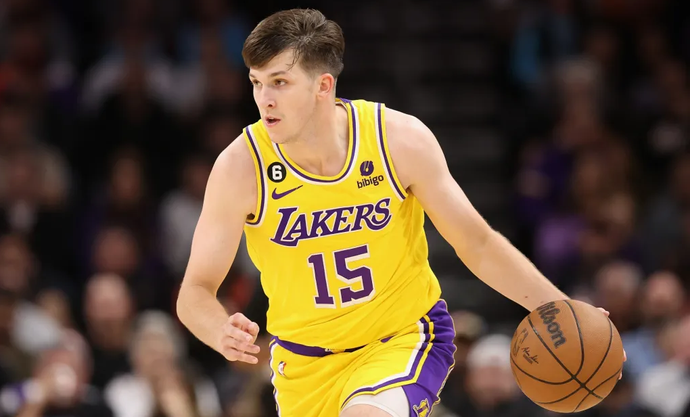 4. Shaedon Sharpe, Portland Trail Blazers
It's pretty rare to see a player win the Most Improved Player award in their second season. In fact, it has only happened seven times in NBA history, and the last sophomore to win the award was Monta Ellis back in 2007. That said, if any of this year's sophomores can do it, it's Portland Trail Blazers guard Shaedon Sharpe. With all of the drama surrounding Damian Lillard's trade request this summer, the Blazers aren't exactly in the best position heading into next season. But Sharpe might be able to thrive in this environment, especially if the Blazers' impending rebuild leads to significantly more playing time.
Sharpe played just 22 minutes per game last season, and his per-36 numbers were impressive for a rookie: 16.0 points, 4.8 rebounds, 2.1 threes and 1.9 assists. Sharpe should absolutely play 30 minutes per game next season, and he will have an opportunity to join the 20 points-per-game club. He could make a leap similar to what we saw from Tyrese Maxey in his second season. Sophomores have a tough time winning this award, especially if they were drafted very high, since drastic improvements are expected in their second season. Sharpe was the No. 7 overall pick in last year's draft, so he'll need to really turn heads in order to win this award.
5. Cade Cunningham, Detroit Pistons
While Cade Cunningham has the second-best odds to win the Most Improved Player award on FanDuel, he is a very hard player to evaluate in this context. Cunningham has already played elite basketball in his young NBA career, but he appeared in just 12 games last season, leaving us with a very small sample size to analyze. The Detroit Pistons have certainly made improvements to their roster, but it remains to be seen whether they'll help Cunningham's stats (since he'll be surrounded by more weapons to distribute to) or hurt them (since they'll take away some of his touches).
That said, he will likely be an elite scorer regardless of his supporting cast. Having him listed this low isn't a slight; he'll very likely emerge as a star next season. It's just hard to imagine him showing more improvement than other players on this list, partially because he's already looked so good at times. It's also worth noting that just one No. 1 overall pick has won the Most Improved Player award in NBA history: Pervis Ellison in 1992. Cunningham's biggest concern in terms of improvement this season should be games played.
Honorable Mention: Josh Giddey, Scottie Barnes, Paolo Banchero, Tyrese Maxey, Jordan Poole